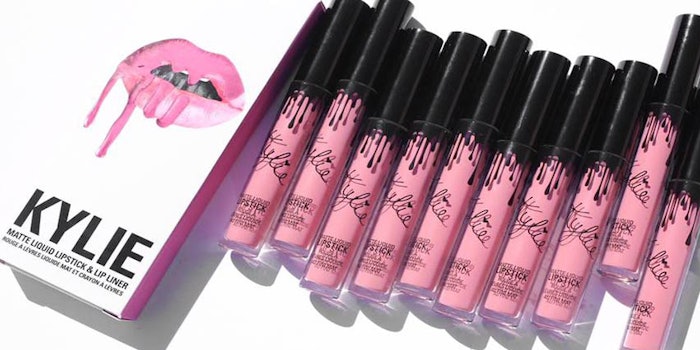 Update (January 6, 2020): Coty Inc. and Kylie Jenner have completed the transaction that gives Coty a controlling stake in the brand. Meanwhile, Christoph Honnefelder will take the role of CEO of Kylie Cosmetics and Kylie Skin. He previously held roles with Douglas, Tchibo and The Boston Consulting Group. Kylie Jenner and her team will continue to direct the brand's product and communications initiatives. Coty will oversee R&D, product development, manufacturing, distribution, commercial elements and go-to-market strategy.
"I'm excited to welcome Christoph to the team and look forward to the continued growth of Kylie Cosmetics and Kylie Skin," said Kylie Jenner.
Pierre Laubies, Coty's CEO, said, "We are pleased to complete this transaction and partner with Kylie Jenner to build a high growth, digitally native beauty brand."
Previously: Coty has acquired a 51% stake in Kylie Cosmetics (makeup and skin care business units) for $600 million. Kylie Cosmetics has achieved a reported $177 million in sales in the last 12 months, according to a company announcement of the deal. In addition to skin care and cosmetics, Coty appears poised to expand the brand into fragrance. Finally, Coty is estimating it will have more than recoup its costs by 2023.
Coty plans to expand Kylie Cosmetics internationally and will market the brand through Coty's retail partners and owned digital channels. Coty will develop the portfolio, oversee R&D, manufacturing and distribution, and the commercial and go-to-market strategy, likely meaning an end to Kylie Cosmetics' dynamic manufacturing partnership with Seed Beauty.
Coty will also take charge of the brand's category expansions such as skin care, fragrance and nail products. At the same time, the company hopes Kylie Jenner will continue to leverage her 270 million social media followers to build the brand.
The deal came at a time when Coty had appeared to be focusing on shoring up its core business amid struggling sales. The company has also explored the divestment of its professional brands, and recently parted ways with Younique.
Kylie Cosmetics itself also appears to have its own challenges in the age of a makeup market downturn.
"Kylie [Jenner] and her team will continue to lead all creative efforts in terms of product and communications initiatives, building on her unrivalled global reach capabilities through social media," Coty announced.
It added, "The transaction is also a key milestone in Coty's ongoing transformation into a more focused and agile company."
Pierre Laubies, Coty CEO, said, "We are pleased to welcome Kylie into our organization and family. Combining Kylie's creative vision and unparalleled consumer interest with Coty's expertise and leadership in prestige beauty products is an exciting next step in our transformation and will leverage our core strengths around fragrances, cosmetics and skincare, allowing Kylie's brands to reach their full potential."
Jenner noted, "I'm excited to partner with Coty to continue to reach even more fans of Kylie Cosmetics and Kylie Skin around the world. I look forward to continuing the creativity and ingenuity for each collection that consumers have come to expect and engaging with my fans across social media. This partnership will allow me and my team to stay focused on the creation and development of each product while building the brand into an international beauty powerhouse."
Peter Harf, chairman of the board, said, "This new partnership between Kylie and Coty is an exciting step in Coty's renewed emphasis on its beauty business. Kylie is a modern-day icon, with an incredible sense of the beauty consumer, and we believe in the high potential of building a global beauty brand together."