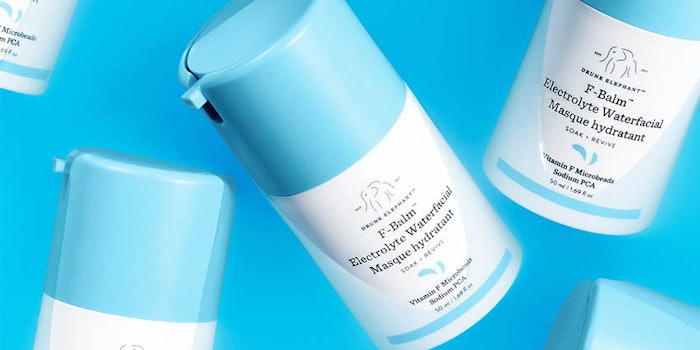 Available exclusively at Sephora, Drunk Elephant has announced the launch of F-Balm Electrolyte Waterfacial, an overnight hydrating face mask meant to plump and restore skin while strengthening its acid mantle.
Formulated with a combination of electrolytes, as well as barrier-replenishing ingredients, including niacinamide, sodium PCA, plant squalane, five forms of ceramides, omega fatty acids and antioxidants, the F-Balm mask rehydrates hungover and overly-parched skin.
During application, tiny beads loaded with vitamin F burst on the skin to deliver extra emollience and soothing hydration. In addition to restoring the skin's balance of hydration and moisture levels, the overnight mask can help improve signs of damage, uneven tone and texture.
F-Balm is to be applied with four to five pumps at the end of one's nightly skin care routine. It can also be layered over Virgin Marula Oil for an extra shot of absorbable moisture, or on top of T.L.C. Framboos Glycolic Night Serum for a gentle, chemical exfoliation while one sleeps.
The F-Balm Electrolyte Waterfacial mask is available on the Drunk Elephant and Sephora websites, as well as Sephora stores at a retail price of $52.
"F-Balm is an overnight mask that plumps and helps restore the balance of hydration and moisture levels to the skin," said Drunk Elephant founder Tiffany Masterson. "Our four electrolyte blend helps restore the water content of skin while protecting against its loss, which makes the lipids, ceramides and oils in the formula even more effective at their job–keeping skin soft and supple."