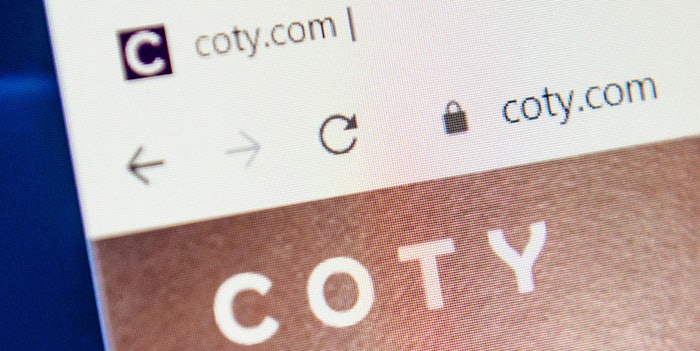 Coty's first quarter 2021 net revenue totaled $1,690.5 million, a 13.0% year-over-year decline. Like-for-like (LFL) revenue decreased 11.8%, driven by LFL decreases in the Asia Pacific segment of 36.6%, EMEA of 24.4% and Americas of 4.5%, while Wella rose 6.5%.
Previously: Coty's New Digital and Commerce Leads
One item of note: Coty's e-commerce sales now comprise 13% of total sales.
The first quarter results also show an adjusted gross margin of 61.8%, which decreased from 62% in the prior-year period.
Q1's net income of $200.6 million improved from a reported net income of $52.3 million in the prior year, aided by reported tax benefits associated with Coty's relocation of its tax principal. The adjusted net income totaled $83.6 million versus adjusted net income of $50.5 million in the prior year.
The company also noted that reported and adjusted gross margin fell from 62.0% in Q1 2020 to of 61.8% in Q1 2021. This was primarily due to the decline in sales volume as well as mix impact, particularly a higher proportion of sales coming from mass brands and the Brazil market, which was impacted by FX depreciation.
Previously: e.l.f Beauty Q2, H1 2021 Net Sales Increase 7%
Fixed costs savings were approximately $80 million in the first quarter, and are on track to deliver more than $200 million of savings in fiscal year 2021, while still maintaining focused marketing investments. 
The operational improvements and stringent cost controls resulted in $81.1 million in adjusted operating income from continuing operations, an increase of 24% versus last year.

The financial net debt was reported at $7,864.5 million on September 30, 2020, which was largely flat with the balance of $7,848 million on June 30, 2020.

Sue Y. Nabi, Coty's CEO, said:
Our first quarter results are a testament that a stronger, more focused and more flexible Coty, is emerging in the middle of the COVID-19 pandemic and better prepared to face any future market disruptions. Impressively, the organization has continued to adapt to the new normal, executing on our financial and operational priorities, including profit and cash flow protection, strong innovation performance, e-commerce momentum, and strengthened positioning in core markets.
Our results met or exceeded our expectations by all measures, showing significant improvement from 4Q20 across all of our regions, and across our prestige and mass businesses. Our stringent cost control enabled over 20% growth in our adjusted operating income and over 50% growth of the total company EPS.
The success of our recent launches, including Marc Jacobs Perfect, Gucci's Bloom Profumo di Fiori, Sally Hansen's good.kind.pure, and CoverGirl's Clean Fresh, confirm the strength and enduring potential of our brand portfolio. As we have leaned into our digital efforts and activation, we have seen double-to-triple digit e-commerce sell-out growth across most markets, with our e-commerce penetration as a percentage of our overall sales doubling to 13%. As a result, we have strengthened our positions in our core markets, gaining market share in prestige fragrances across the U.S., U.K, and Germany, and stabilizing our mass color cosmetics market share in the U.S. These milestones, along with the strengthening of our executive leadership team with Isabelle Bonfanti as Chief Commercial Officer of Luxury and Jean-Denis Mariani as Chief Digital Officer, put us well on the path to the new, future Coty.
We remain focused on diligent cost control and delivering on our FY21 financial commitments, including being profitable on an adjusted operating income basis for Continuing Operations and being cash positive for the year, supporting improved like-for-like Financial Net Debt.
More than ever, Coty is committed to reigniting our mass color cosmetics business, especially CoverGirl. Likewise, we will accelerate Coty's prestige business growth through makeup by leveraging our designer brands portfolio, including Gucci and Burberry, especially in Asia. We will continue building further growth engines, leveraging the potential of our skincare brands powered by our new DTC capabilities, starting with Kylie skincare.
After several months in the CEO role, I am as convinced as ever that we've put in place the right foundations to unleash Coty's huge potential. Coty is now ready to grow in all core regions, categories and price positions across the market.