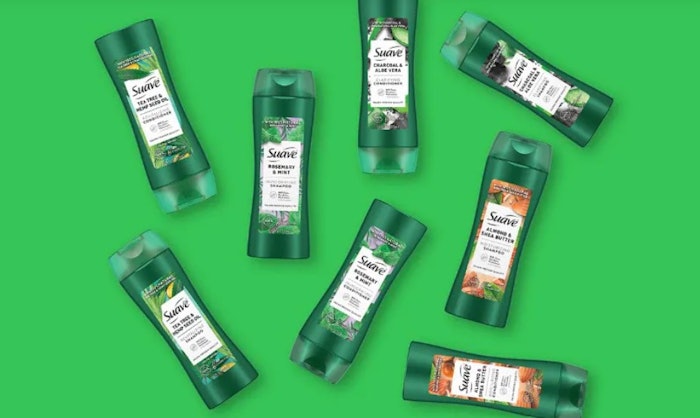 Yellow Wood Partners has completed the acquisition of Suave in North America from Unilever. 
As previously reported by Global Cosmetic Industry, Unilever first made the announcement in February 2023.
Suave will continue to be owned and operated by Unilever outside of the United States and Canada.
Yellow Wood Partners is creating the Suave Brands Company, a newly formed stand-alone business created to support the Suave brand under the leadership of newly appointed CEO Daniel Alter.
Alter brings to Suave Brands Company 20 years of global strategy, brand development and general management experience during his tenure in international operating roles across beauty and personal care with Unilever. 
Suave Brands Company will be headquartered in New Jersey. 
Alter said, "I am excited to partner with Yellow Wood to lead the Suave Brands company and set the brand up for its next stage of growth. Our shared vision is to build the Suave Brands Company into an industry leading beauty & personal care platform, delivering high quality products at an accessible price for consumers across North America."
Dana Schmaltz, partner of Yellow Wood Partners, said, "The widely known Suave brand has a long heritage and strong consumer loyalty, selling over 250 million units annually and is present in 1 out of every 2 homes in America. Our firm's extensive experience working with multi-national branded consumer packaged goods companies, such as Unilever, Bayer and Reckitt, will enable us to successfully transition Suave to an independent company within the Yellow Wood portfolio and accelerate its growth. Our deep expertise in the consumer goods sector and with large mass, grocery, drug, and ecommerce retailers will help us enhance Suave's closeness with consumers and product innovation. In addition to carving out Suave and establishing an independent infrastructure, we are building the Suave Brands Company into a beauty & personal care platform focused on democratizing trends, making them accessible to a broader consumer base. To deliver on this goal, the Suave Brands Company will acquire beauty and personal care brands across multiple categories, including hair, skin, body, and more, that will drive synergies across the platform."
Tad Yanagi, partner of Yellow Wood Partners, said, "We are excited about Suave's ability to benefit from the growing consumer demand for value-based brands. There is great opportunity to do more with Suave's leading brand awareness and consumer loyalty and to lead that effort we are pleased to welcome Daniel Alter as CEO. His and Yellow Wood's deep branded CPG experiences will help Suave execute on new growth levers to build the business and identify new personal care brand acquisitions."