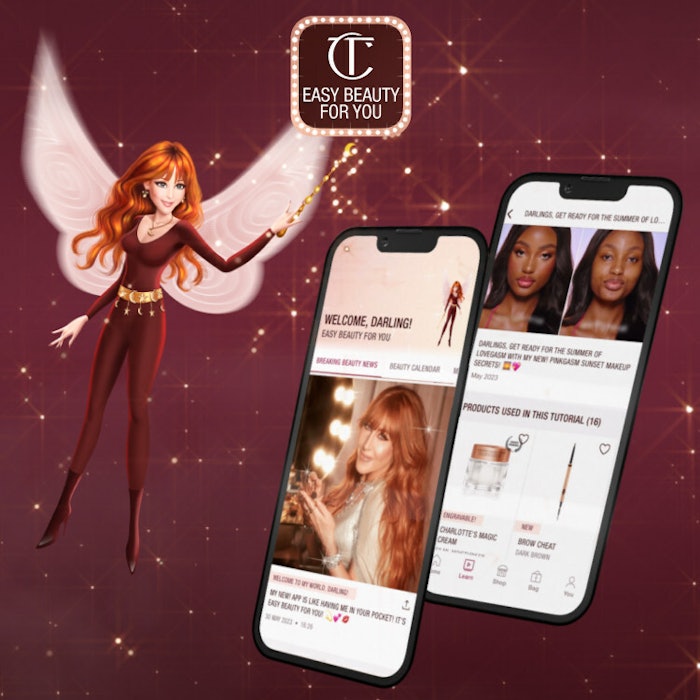 Charlotte Tilbury, founder of Charlotte Tilbury Beauty, has launched her first app, which is an interactive platform that harnesses the power of  Tilbury's artistry expertise, plus the power of artificial intelligence to educate, inspire and reward new and existing customers. 
Highlights of the app:
Powered by AI, users can get

skin care, complexion and color products tailored to their skin tone and skin needs.

The app-only exclusives feature sell-out sensations, back-in-stock icons new beauty secrets and app-only drops.
The beauty video library is home to all of Tilbury's how-to tutorials and quick application tricks.
All access red carpet content features looks worn by celebrities and supermodels and shows behind the scenes footage.
Daily mood-boosting affirmations that spread confidence, happiness, love and luck.
Users can shop on the app and enjoy exclusive first access to Tilbury's new innovations and app-only beauty secrets, magical loyalty rewards and more.
The Charlotte Tilbury app is available in 34 countries and five languages.
Tilbury MBE, founder, president, chairman and chief creative officer, said, "My app is like having me in your pocket—24/7—so that everyone, everywhere, can download beauty confidence. It's a beauty tech world-first, the only place you can access a truly immersive and empowering beauty experience all in one app. It's always been my mission to democratize and decode beauty and skin care, and this incredible app achieves this - it's expert artistry at your fingertips. This has been years in the making—the tech has finally caught up with my vision to make easy beauty for you. It's powered by my years of expertise and my unique artistry algorithm, backed by data science and customer insight. It takes all my knowledge, secrets, tips and tricks from my 30-year career with how-to tutorials delivering easy beauty for everyone—unlocking all my backstage secrets, exclusive behind-the-scenes content, and app-only product drops."