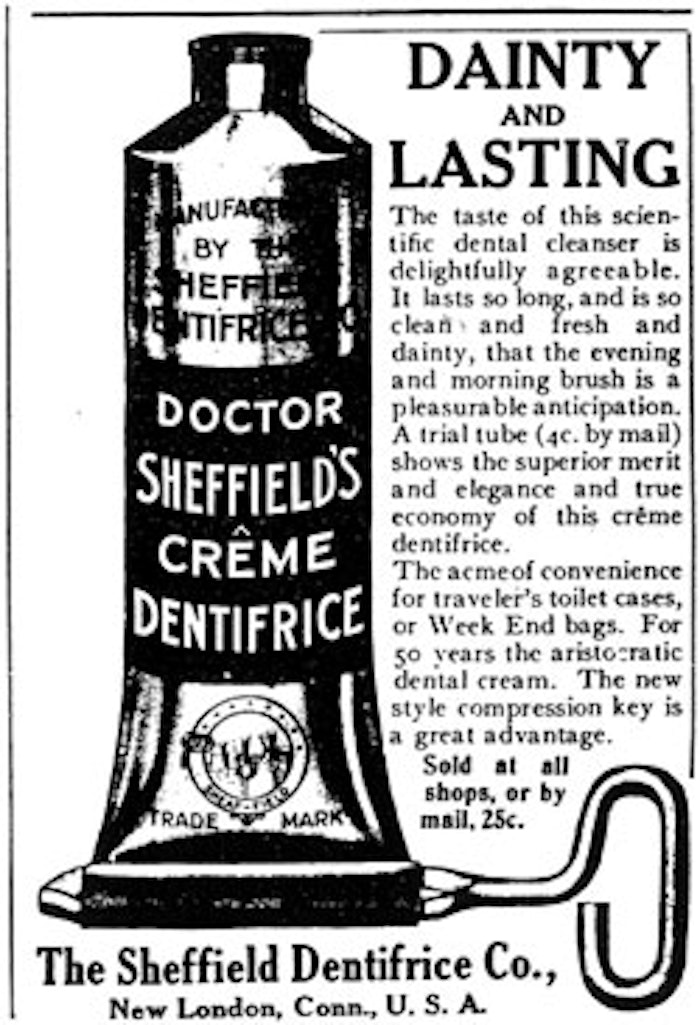 In the next five years, the U.S. and developing global markets will experience a continuing demand for cosmetic teeth whitening treatments through beauty spas and salons.
Formulation challenges include the creation of natural whitening ingredients that meet consumer expectations.
Mouth rinses will continue to play an important role in accompanying bleaching whiteners.
Interest in natural formulas for oral care products and in the whitening market overall will encourage the production of more specialized products.
Five years ago, most industry analysts would have claimed that teeth whitening was a passing fad and that demand for whitening products would diminish," says Tara Eriksen, senior international marketing manager, Beyond Dental & Health. "Today, it's a billion dollar industry and still going strong." According to Eriksen, the turning point in the market came with the invention of at-home products such as whitening strips and personal LED devices sold by mass retailers. "This served to familiarize consumers with the concept of teeth whitening and created a new demand—teeth whitening in more comfortable and familiar settings than in a dentist's office," she says.
Diann Bomkamp, president of The American Dental Hygienists' Association, says whitening is one of the most common aesthetic dental treatments for adults. In 1995, marketing research firm Packaged Facts reported a $3.8 billion oral hygiene market in the U.S., of which teeth whitening was a growing player. In 2007, it estimated the market worth $7.5 billion at retail, headed for $8.9 billion by 2012.
In the U.S., spas and salons have cashed in on this revenue by introducing chair-side whitening treatments through vendors and distributors such as Beyond Dental & Health, Whiter Image and RevitaBright. For instance, Beyond Dental & Health offers the WhiteSpa Select salon edition treatment, which combines a hydrogen peroxide-whitening gel with a halogen light source for one hour to achieve an average of five shades improvement. "This powerful light source is filtered through more than 12,000 optical fibers and 30 layers of coated optical glass, removing all harmful heat and UV light, delivering a tailored beam of intense, safe blue light," Ericksen says.
Cosmetic teeth whitening is designed, according to ISmile LLC, to remove plaque from the pores in teeth and lighten enamel discoloration caused by age, illness, food, beverage and tobacco products. Combining whitening agents with light acceleration technology through halogen, LED or plasma arc lights allegedly accelerates the rate of results. "Aside from the obvious advantage to seeing instant, dramatic whitening results," Eriksen says, "light-accelerated technology also reduces the amount of time that the user is exposed to hydrogen peroxide, making teeth sensitivity from the treatment less likely."
While sensitivity is an issue, cost also affects consumer demand. According to Brad Stevens, founding partner, business operations and development, Whiter Image, a whitening procedure at a dentist's office can cost from $600 upward. Non-dental chair-side vendors, on the other hand, charge approximately $75 for a 15-minute session—regulation and ingredients (8–12% strength hydrogen peroxide is utilized, compared to a dentist's 30–35%, for example) are among the factors that impact cost.
Regulation also impacts the hands-on of the whitening professional. The majority of chair-side treatments must be administered by spa and salon clients themselves. "For instance, you can't touch the person's mouth, or it is considered dentistry," Stevens says. These regulations also impact how these treatments can be marketed.
For spas and salons that are short-staffed and unable to opt for chair-side treatments, selling at-home whitening kits has become a secondary source of income. Such kits and similar products—whitening strips or mass retailers' pre-filled whitening trays—such as Procter & Gamble's Crest, GlaxoSmithKline's Aquafresh and Johnson & Johnson's Rembrandt—as well as the whitening toothpastes in these lines, gels and more unconventional products such as gum—add to the growing oral care segment.
"In the next five years, we anticipate a continuing demand for cosmetic teeth whitening treatments through beauty spas and salons in the U.S. and an increasing demand in developing markets around the world," Eriksen says. "As disposable incomes rise, the demand for cosmetic treatments in general increases. However, even in established markets, teeth whitening for the beauty industry is still a relatively new concept for many spa owners, and there is still some hesitation that their customers will demand the treatment."
For vendors in this segment, offering chair-side products, as well as products for continued maintenance after a session, ensure that all retail bases are covered. Beyond Dental & Health's OTC products, the E-Bright Tooth Whitening Accelerator Home Edition and the Beyond Pearl White Whitening Toothpaste with Fluoride Advanced Formula, are formulated to help maintain results from treatment. "It has really been this year that we have reached a critical mass of beauty professionals introducing teeth whitening as a service to their clients," Eriksen says. "What we introduced to the market in 2006 has grown into its own segment and is sure to continue to grow in 2009."
For Whiter Image, the company offers chair-side whitening at luxury locations, including at V Spa at Trump, Wynn Las Vegas, Greenbrier, Encore Las Vegas and Planet Beach franchises. Whiter Image also sells OTC products, including the Whiter Image ToGo Whitening Pen—which features 4.5 mL triple-action mint flavored gel, delivering 9% stabilized hydrogen peroxide. In addition, Whiter Image will launch its new Chic-Flic ToGo Whitening Pen in 2009, targeted toward female consumers with a teeth whitening gel on one side and an 80% organic lip plumper on the other. "We talked to [representatives from] Sephora and other retailers when researching the product's concept," says Stevens, "and they told us that lip plumpers sell 5-to-1 in their stores when compared to lip glosses. So, we made the Chic-Flic a lip plumper, and its mint flavor serves as a breath freshener."
Similar to Beyond Dental & Health, Whiter Image has experienced tremendous growth since entering the industry in early 2008. "We have received a ton of interest globally, because teeth whitening is in its infancy in many countries," Stevens says. "Other than in the U.S., we're launching in South Africa, Mexico, Ireland, Canada and Poland."
For private label manufacturer Sheffield Pharmaceuticals, global interest has also peaked. "We have companies from as far as Australia, England and France doing business with Sheffield," says Ana de Oliveira, vice president of sales and operations. "There is definitely an emphasis on tooth whiteners, and while this trend seems to be big in the U.S. and in the U.K., this is now a growing product that's in demand in other countries." In addition to requests for whitening toothpastes and tray applications, Oliveira says she receives orders for mouth rinses to accompany bleaching whiteners. On a weekly basis, her company also receives requests for calcium peroxide, hydrogen peroxide and carbamide peroxide-based teeth whiteners, as well as more natural oxidizers.
Merging Natural and Classic
With beauty brands across all segments turning to more naturally derived, sustainable and certified organic ingredients, the teeth whitening market isn't far behind.
"Consumer demand indicates that natural and organic products are sought after, and all indications reflect that this is the fastest-growing product category," says Oliveira. "Depending on our customer requirements, we have explored the use of natural abrasives and enzymes, as well as oxidizers for whitening products. The addition of natural oils or extracts also enhances a formula's appeal and offers the consumer that extra 'uniqueness and experience.' There is also a concerted effort to find new and exciting ingredients such as licorice extract, pomegranate, cranberry seed, goji berry, chamomile, mangosteen, marigold and edelweiss for the manufacturing of products. However, we continue to receive weekly requests from the traditional customers who prefer the conventional flavors such as peppermint or wintergreen."
A non-traditional natural and organic-producing bath and body brand, Europe's Weleda also saw the potential in the teeth whitening segment, and launched Salt Toothpaste with baking soda, aimed at adult consumers who shop at health food stores. "We know sea salt is phenomenal for its cleansing properties against odor and bacteria, and baking soda is a whitener," says Jennifer Barckley, communication and public relations manager, Weleda North America. "Although we don't market Salt Toothpaste as a natural whitening product, due to regulations in the naturals/organics segment, it does have cleansing properties that can lead to whitening."
Tom's of Maine has also added whitening to its natural line, offering Natural Clean & Gentle Care toothpaste with silica for whitening. Additionally, to target a segment of consumers Laura Brinker, spokeswoman for P&G, calls "mainstream naturals," Crest launched Nature's Expressions toothpaste in 2007, which whitens teeth and features natural flavors. However, not every brand has been able to incorporate speed-to-market for whitening products. Some are still in R&D mode.
"Our chemists have embraced the challenge to consider more natural and environmentally friendly alternatives, and during the past two years, we've begun gradually incorporating natural ingredients into our OTC oral care line," says Eriksen of Beyond Dental & Health. "We've recently launched a new version of our Pearl White toothpaste in Japan that contains tea tree oil. This product is scheduled for launch in the U.S. market later in 2009."
The use of natural ingredients in oral care poses challenges to brands as far as flavors and a product's performance are concerned. "When we're dealing with bleaching agents, it's challenging to find natural or organic products that deliver the same kind of results consumers want," says Stevens of Whiter Image. "So, we've been evaluating the types of products we're using."
Singular vs. Multiple Claims
According to Eriksen, interest in natural formulas for oral care products and in the whitening market overall will encourage the production of more specialized products rather than additional all-in-one options. "Toothpastes that fight cavities, reduce tartar build-up, prevent plaque and whiten all at the same time will undoubtedly remain on the shelves," she says, "but we can expect to see more products tailored to singular concerns, be it whitening, hypersensitivity or natural ingredients."
P&G, on the other hand, prefers to focus primarily on all-in-one marketing claims for its oral care products. "There are, in fact, a great deal of consumers seeking multiple benefits," says Brinker. "These daily products can be remarkably effective in removing or preventing daily stain deposition," adds Robert Gerlach, research fellow, P&G. "Even newer approaches combine modern whitening technologies with therapeutic ingredients. One of the best examples is Crest Pro-Health, an advanced, whitening toothpaste that contains stannous fluoride to promote gum health and prevent dental caries."
The singular claims Beyond Dental & Health's Eriksen foresees for the whitening segment include improved gingivitis and cavity protection, and increased enamel hardness. P&G will launch a new line of oral care products in March 2009 designed to protect against acid attack on enamel caused by everyday food and beverages, and it is a safe bet that marketers will continue to refine and redefine teeth whitening and oral care in general, promising many glowing smiles well into the future.