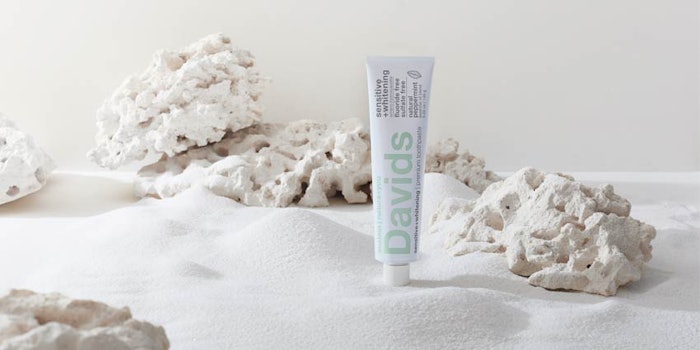 Davids Natural Toothpaste has launched its Sensitive+Whitening Nano-Hydroxyapatite Toothpaste. Nano-hydroxyapatite (n-HA) is the same material that naturally makes up teeth and has a multitude of benefits for teeth, according to the company.
Related: Report: Toothpaste Tablet Market to Grow at a CAGR of 6.1%
Nano-hydroxyapatite was first developed by NASA to repair astronauts' teeth after they demineralized from time spent in space.
Some of its benefits include reduction in tooth sensitivity, improvement in enamel health, removal of plaque and brighter, whiter teeth. It also works as a filler to repair microscopic pits and scratches on the enamel surface and binds to proteins in plaque.
The Sensitive+Whitening Nano-Hydroxyapatite Toothpaste costs $9.95 and is available at davids-usa.com.