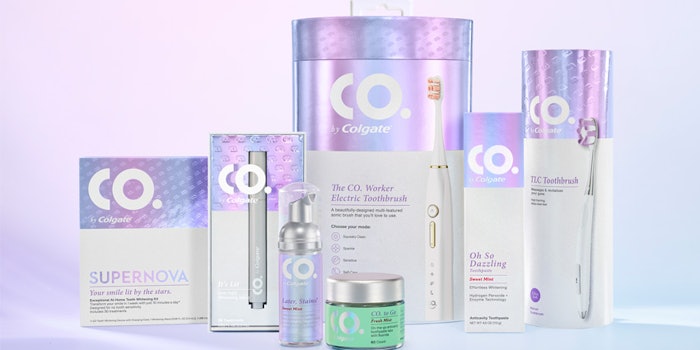 CO. by Colgate has launched, which features products marketed toward Generation Z, which are available exclusively at Ulta Beauty.
Previously: Beauty x Oral Care: the Next Opportunity
Products in the collection include:
Oh So Dazzling: Enzyme-powered teeth whitening toothpaste
TLC Toothbrush: Manual toothpaste with ultra soft bristles
The CO. Worker: Rechargeable electric toothbrush
Later, Stains!: Foaming anti-stain mouth rinse
SuperNova: Rechargeable at-home teeth whitening kit
It's Lit: Overnight teeth whitening wand
Co. to Go: On-the-go anti-cavity toothpaste tabs
According to the brand's website, "We made this line of products to reimagine your wellness routine. CO. will make you smile brighter, so you can have more fun, speak up louder and live your truth boldly."
CO. is said to represent a fluid idea around self-care or "one that change based on what you want and when you want it."
CO. by Colgate is building a donation model into the brand to give back with every purchase, focusing on non-profit organizations that help ensure a future where everyone can live their truth boldly.
Monica Arnaudo, chief merchandising officer, Ulta Beauty, said: "We're delighted to be the exclusive retail partner for CO. by Colgate and provide a platform for this innovative collection to be discovered and embraced. As a beauty leader and preferred destination among Gen Z beauty enthusiasts, we know how important daily routines are to our guests' holistic well-being. CO. by Colgate turns the simple act of brushing one's teeth into a self-care ritual–and that's something to smile about."
Dana Medema, VP and general manager, Oral Care, Colgate North America, said: "Self-expression is at the core of CO. by Colgate, underscored by our belief in a future where everyone can feel confident to express themselves freely. CO. by Colgate is more than a line of transformative oral beauty products that help create brighter smiles. It aspires to celebrate and support those working every day to build a brighter, more inclusive future. We hope to help shape a world where everyone feels safe and encouraged to be who they truly are."
Ingredients (Oh So Dazzling): Sodium Monofluorophosphate, Poloxamer 105, Calcium Pyrophosphate, Triacetin, PEG-12, PVP, PEG/PPG-116/66 Copolymer, Tetrasodium Pyrophosphate, Silica, Flavor, Betaine, Sodium Lauryl Sulfate, Sodium Saccharin, Hydrogen Peroxide, Sucralose, Carboxylesterase, Maltodextrin, BHT.