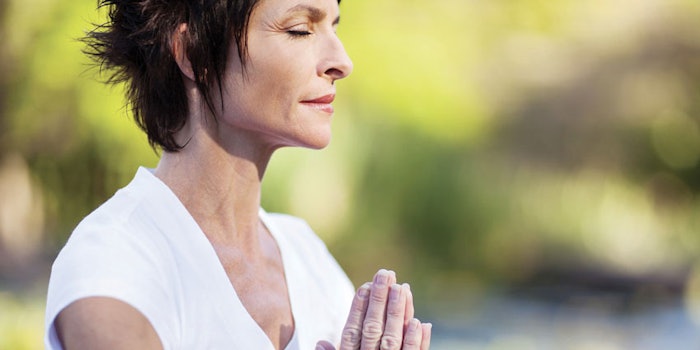 The evolution of the well aging, anti-aging or post-aging is a science story wrapped in a wave of shifting consumer perceptions. First, the science.
At the dawn of the DNA-age, it was widely thought that chromosomal factors were the leading determinants of aging. Today, however, research is finding a more comprehensive array of factors impacting the process. In 2017, a team of researchers published an influential paper, "The skin aging exposome," which sought to lay out which factors impact the visible, if not chronological, perception of agea. The authors defined the "exposome" as "the totality of exposures to which an individual is subjected from conception to death. It includes both external and internal factors as well as the human body's response to these factors." These exposures include UV and IR, air pollution, lifestyle factors such as tobacco use and nutrition, stress and sleep deprivation, cosmetics and more. In total, these insights point to a more nuanced mindset on what contributes to age perception. As the scientific focus around aging has broadened, consumer perceptions and demographic realities have shifted significantly. By 2022, 32% of the U.S. population will comprise women aged 55-plus, according to a summer 2018 briefing by Sharon Kwek and Sarah Jindal, both senior global analysts, innovation and insights, beauty and personal care, for Mintel (www.mintel.com). It's no surprise that mature women are therefore critical for the beauty industry because they represent an affluent and growing demographic.
These older consumers have more money than their younger counterparts, but they're also working longer, dating more frequently and remarrying later in life. This revamped sense of vitality among older consumers has reshaped thinking on aging and self-esteem and requires new approaches by beauty product developers and marketers to offer clear benefits and relevance to a vibrant population that would rather enhance than mask its natural look.
Beauty Industry & Society Have a Long Way to Go
A December 2015 survey of 6,800 women in 11 countries conducted by Olay found that, "eight out of 10 women worldwide believe chronological age will continue to be less relevant [and that] women are no longer defined by their chronological age." However, all this positive talk shouldn't mask the very real challenges regarding aging.
For instance, the 2017 Philips Global Beauty Index (www.philips.com) found that 61% of surveyed women agreed that the beauty industry puts pressure on women to look a certain way, while 31% believed the beauty industry was not at all focused on well-being." An additional 38% of participants said they expect the industry to provide a more holistic approach to beauty with a strong connection between health and beauty.
While older consumers are redefining aging by decoupling chronological age from specific lifestyles, a recent study from the U.K. Royal Society for Public Healthb shows just how entrenched unhealthy attitudes toward growing older remain. For instance, 50% of women and 25% of men reported feeling pressure to stay looking young. While publications such as Allure may do away with the term anti-aging, there's still a long way to go.
The study declared, "The gendered nature of the fears surrounding growing 'old' was reflected in our research—both anecdotally within focus groups, but also with the survey finding that perceptions of when 'old age' begins are significantly higher among women than men, suggesting the women feel more pressure to stay 'young' for longerc."
The report also found a significant—though perhaps not shocking—disconnect between younger respondents and older participants, likely due to the fact that two thirds of the public have no friends with an age gap of 30 years or more, per the report.
For instance, 25% of 18-34-year-old respondents believed it is "normal for older people to be unhappy and depressed, while 30% believe "being lonely is just something that happens when people get old. Additionally, 40% of 18-24-year-olds believed "there isn't any way to escape getting dementia as you age."
Targeted Products & Messaging
According to the Mintel report, 70% of women aged 55+ want beauty brands to discuss the ageing process, while 64% of this same group look for products designed for people of their specific life stage. Sixty-four percent of U.K. women 45-54 said they weren't put off by brands discussing menopausal skin and hair issues on packaging.
SK-II recently took these lessons to heart with its #INeverExpire campaign, which featured women speaking to the age-related societal biases and women's own self-imposed barriers and expectations.
Shiseido's Benefiance NutriPerfect Night Cream, "created especially for mature skin," specifically notes that the product is designed for those "who are facing these menopause-related hormonal changes and are concerned about the weakening and thinning of their skin."
Similarly, Bioeffect's Cellular Age-Defying Serum, which reportedly visibly minimizes fine lines and wrinkles and restores the complexion and radiance, directly discusses the thinning of skin density during menopause.
Lessons from Asia's Anti-aging Trends
Asia's fast-aging populations are a significant challenge, particularly in mature markets such as Japan and Singapore (see Aging Asia: By the Numbers). How the beauty industry responds as consumers move through life's unique stages could offer lessons for other global markets.
Kwek and Jindal's FIT presentation revealed that Asian consumers of every generation have concerns about the signs of aging:
20% of Indonesian urban-dwelling metro male consumers aged 16-24 consider anti-aging claims important when buying facial skin care products for themselves
87% of female consumers aged 20-39 use anti-aging skin care; 74% started using anti-aging skin care in their 20s
Chinese female consumers age 20-49 consider the top three signs of aging to be:
Fine lines (63%)
Loose skin (61%)
Dull skin (56%)
How Asian Brands Are Responding
Skin care brands in Asia have targeted the silver generation by providing products designed for specific life stages, such as women experiencing menopause, as seen with Japan's Kobayashi Seiyaku Inochi No Haha Moisturizing Essence, which comprises herbal extracts, fermented hyaluronic acid and egg yolk lipoid to prevent dryness, boot firmness and leave the skin moist, translucent and plump. Similarly, Lucido Bodycare has introduced deodorizing products that remove odors said to be associated with older men.
Key claims include skin barrier strengthening, pH balance of the skin and improvement of skin tone, according to the Mintel data. Relevant ingredients in the space include rice milk and Centella asiatica, an ingredient known for its skin repair and circulation boosting properties.
Anti-aging's Terminology Disconnect
Journalists, consumers, beauty marketers and formulators, and ingredient suppliers are often using divergent terminology to scope out anti-aging product benefits, according to recent BASF research presented to Global Cosmetic Industry by Kumar Kunal, Ph.D., marketing manager, skin care North America. While some variations are minor, others are striking.
Reviewing sensorial terms in facial anti-aging, the BASF researchers collated a master list of face care sensorial words used by blogs and established media outlets, top U.S. prestige brand and retailer product descriptions, consumer product reviews, and ingredient supplier formulation and end-user descriptions. The group then identified the language trends among the various sources, ranking terms by frequency.
Manasi Chavan, marketing manager for BASF, explained in a recent interview that terminology is critical for ingredient suppliers to understand the goals of its customers and to help brands better communicate technical claims in the consumer's language. Kunal added that terminology analysis can help brands better assess how they should describe product facets such as texture in ways the consumer both understands and values. While using novel terminology isn't necessarily wrong, the focus must always remain on clear communication of product aspects and benefits, he added. In a world in which many consumers are beginning to search for products by ingredients or benefits, these considerations could have real-world impacts on discoverability and sales.
Anti-aging Vocabulary: Brands Vs. Consumers
While BASF's in-depth research touches on the media and ingredient suppliers, this report will focus on language disconnects between brands and consumers.
When it comes to describing anti-aging benefits, brands and consumers are roughly speaking the same language. Both groups commonly use terms such as "antioxidant", "plump", "smooth", "aging", "moisturize" and "wrinkles" to describe product benefits. When it comes to environmental stressors such as sun exposure and pollution, there are some minor discrepancies. For instance, consumers use terms such as "atmospheric aging" and "ozone" in their reviews of products, while brands often do not.
However, the variations are far more pronounced in other sectors.
Consumers and brands are experiencing a more pronounced difference in facial anti-aging sensory descriptors. For instance, brands may use terms like "glittery", "gentle" and "silky", while the consumer may use terms that brands do not, including "relaxing", "sticky" and "light".
Brands describe the relaxing effect of facial anti-aging products using terms such as "calming", "soothing" and "relaxation", while consumers use terms such as "refreshed". For glittering effects, brands might use terms like "gloss", "shine", "shimmer" and "brilliance", while consumers are prone to terms such as "gloss", "shine" and "illuminating". Interestingly, consumers use "viscosity" to describe product thickness more than brands.
While this research has just begun, BASF has clearly uncovered disconnects that should be front-of-mind when marketers, R&D teams and their ingredient innovation partners conceive and build products and retail and marketing plans.
For a breakdown of other terminology disconnects, see T-1.
5 Ways Anti-aging Innovation is Changingd
Anti-aging technology has historically been one of the hottest innovation areas for cosmetics actives, but the chemistry and attitudes behind applications are changing.
1. Rapid Results
BASF recently surveyed more than 200 women to decode attitudes toward aging. The company found that 60% of respondents wished to look five to 10 years younger—rather than decades or more—while 80% expected "high-quality" skin care to support this goal.
Diving deeper, BASF found that leading needs for facial care included firming effects, moisturization and the minimization of the appearance of wrinkles, while leading emerging claims include improving skin aging effects and speed of results.
These were the insights behind the company's Replexium dual-peptide skin anti-aging bioactive, which claims to address several wrinkle types—crow's feet, forehead and smile lines—while restoring seven years of firmness to the skin in three weeks. The technology's dual peptides, acetyl tetrapeptide-9 and acetyl tetrapeptide-11, boost lumican, collagen I, syndecan-1 and collagen XVII, per in vitro data, thereby supporting denser and firmer skin.
2. Epigenetic Inspiration
Lipotec USA, Inc.'s Reproage peptide modulates the levels of microRNA-145, which may support cellular reprogramming in the epidermal basal layer, helping reactivate the regenerative abilities of the skin, which are lost with age. Inspired by epigenetics, this peptide can improve the appearance of mature skin, according to the supplier.
3. Clean Technologies
Addressing several exosome concerns, Sederma's Venuceane anti-aging active reportedly provides protection against both UV and IR damage, as well as other issues. The natural ingredient is produced via biofermentation and provides anti-aging, hydrating, repairing smoothing and environmental/pollution defense in a range of applications, including face and neck care, body care, leg and foot care, sun protection products, and even nail care and color. In addition to its functionality, Sederma has highlighted its organization's "super-clean processes."
4. Breakthroughs in Wrinkle Hydration & Skin Sagging
Shiseido was recently awarded for a trio of research papers on the subject of anti-aging. "New Insights into the Development of Anti-aging Skincare Cosmetics Focusing on the Primary Causes of Wrinkles" by Yusuke Hara of the Shiseido Research Center found that wrinkling caused by facial expressions mechanically deteriorate the stratum corneum. By using a hydration-dehydration process, Hara found that the stratum corneum could be regenerated with skin care ingredients such as polyoxyethylene/polyoxypropylene dimethyl ether. The technology is also thought to suppress the formation of new wrinkles by keeping the stratum corneum hydrated.
Meanwhile, Tomonobu Ezure, also of the Shiseido Research Center, was honored for "Development of Breakthrough Anti-aging Skin Care—Discovery of a Critical Skin-aging Mechanism Caused by Sweat Gland Shrinkage: Dermal Cavitation," which linked the upward shrinkage of sweat glands as humans age to dermal cavitation, which in turn leads to skin sagging and a decrease in elasticity. Ezure's paper disclosed that rosemary extract can attract adipose tissue-derived stem cells and activate dermal tissues to a three-dimensional dermal structure as a counteractive measure.
Finally, Kentaro Kajiya's "A Novel Mechanism of Cutaneous Aging Mediated by the Impairment of Lymphatic Function and the Protective Role of a Lymphatic-promoting Compound" revealed that lymphatic vessels are functionally hyper-permeable in aged skin, thereby deteriorating its autophagy functions of collecting waste products and excess water. This state is common in cases of sagging skin and agitated by fatty acids in the lymph. This destabilization of lymphatic vessels is likely the result of age-dependent down-regulation of TIE2 receptor activation. Kajiya explained that cinnamon extract directly activates the TIE2 receptor, promoting the stabilization of lymphatic vessels and controlling the accumulation of subcutaneous adipocytes.
5. Wheat Germ Innovation
Laboratoires Expanscience hopes to put skin aging through its paces with α-Lupaline (INCI: Lupinus Albus Seed Oil (and) Triticum Vulgare (Wheat) Germ Oil Unsaponi­fiables), a botanical antioxidant intended to protect skin from everyday environmental aggressors at the cellular level in anti-aging skin and sun care applications. This protection includes the inhibition of ROS generation from UV, infrared (IR) and blue light. To do so, the ingredient is reportedly designed to limit lipid peroxidation, DNA degradation and protein oxidation. The active is also meant to prevent premature structural aging in skin tissue via the regulation of both UV-stimulated protease activity and uncontrolled synthesis of the MMP-1 gene after IR radiation.
Footnote:
aJean Krutmann, Anne Bouloc, Gabrielle Sore, Bruno A. Bernard, Thierry Passeron, "The skin aging exposome," J Dermatol Sci. (2017) Mar;85(3):152-161.
b"That Age Old Question," www.rsph.org.uk/our-work/policy/older-people/that-age-old-question.html
cAging attitudes are not universal across all ethnic backgrounds, according to the study; for example, among people from black ethnic backgrounds, attitudes to aging and older people are nearly three times more positive than average.
dRead more about recent anti-aging innovations in "10 Anti-aging Innovations from in-cosmetics Global"; www.gcimagazine.com/marketstrends/segments/antiaging/