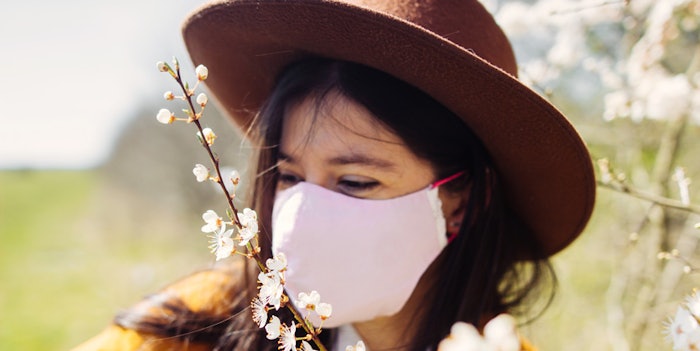 Once-normal beauty rituals are being reimagined. Consumers globally have had to welcome new rhythms and routines in response to new safety concerns and face mask-wearing practices. Now an essential part of everyday life, consumers are recalibrating their approach to beauty as a result of wearing masks, making way for new demands and emerging above-the-neck opportunities for brands. 
New Gear, New Demands
Whether wearing disposable or reusable face masks, consumers have been plagued by skin irritation. The closer the fit and more constant the rubbing of material, the higher the risk of micro tears, and the skin becomes more vulnerable to bacteria and dirt. With constantly clogged pores, consumers are substituting heavy-duty formulas with gentle alternatives.
Oil secretion, sweat and breathing into masks also creates a prime environment for bacteria to build and brew. "Maskne" (acne as a result of wearing a mask) is now rising as a priority facial skin concern. Global searches for "maskne" and "mascne" began emerging on March 29, 2020 and showed a significant rise in April through June, according to Google. 
Savvy brands have been quick to respond with everything from spot dots to gentle cleansers. Korean favoriteDr. Jart+ and K-beauty e-tailer Peach & Lily revealed dedicated sections of their sites curated to products that can help fight the emerging skin concern.
Key takeaway: As the need for face coverings continues, consumers will swap out thick creams for gel- and water-based alternatives. Prioritise lightweight and breathable formulations that will provide skin protection, rather than exacerbating congestion. Providing informative content that will guide consumers on best practices of applying skin care prior to wearing masks is also key. 
Up Close and Personal Skin
With work-from-home a new norm for consumers across the globe, skin care routines are also having to adapt to new indoor work lifestyles. The "Zoom Boom"–a surge in video-based meetings–has put the skin front and center, with consumers looking to ensure healthy and radiant complexions via prolonged skin care regimes and potent products. 
Screen time has also increased since the COVID-19 outbreak.According to Global Web Index, as of March 2020, 70% of consumers around the world are spending more time on their smart devices with nearly half (44%) spending more time on social media. Overexposure to laptops and smartphones has seen concerns for premature aging on the rise. According to the NPD Group, blue light protective skin care saw a 170% sales increase in the first half of 2020. Shrewd beauty consumers are seeking blue light protection from key skin care products including serums, moisturizers and primers. Goodhabit Skin launched at the height of the pandemic in May, offering a  product line that protects against light damage from excessive screen time.
Prolonged time indoors has led to new concerns including dryness, dullness and rough texture of the skin. Beauty fanatics are turning to solutions with ample levels of humectants (ingredients that bind moisture to the skin) that offer long-lasting hydration, while intermittently waking up the skin. Maria Badescu's Facial Spray with Aloe, Cucumber and Green Tea boosts facial hydration and provides a refresh to the face throughout the day.
An increase in pandemic-related stress is further wreaking havoc on the skin, leading consumers to seek out calming product propositions. This Works' Stress Check Face Oil, for instance, features a lightweight and nourishing formula for stressed out skin, and is also infused with soothing scents to additionally calm the mind. All-encompassing solutions such as Peach and Lily's Glass Skin Veil Mist can win with home-bound consumers going forward. The multi-action product features adaptogens and antioxidants that replenish hydration, alleviate stress and keeps the skin healthy 24/7.
Key takeaway: With remote working on the rise, consider how every step of skin care can work to ward off the negative impacts of this new way of life. Address digital aging with innovative formulas and factor it into existing products. Prioritize moisture benefits via long-lasting formulas or intermittent replenishments, and amplify claims that speak to calming benefits and healing properties to counteract stressed skin.
Half-Face Treatments
Above-the-mask treatments are also gaining prominence, as the eyes become the most visible part of the face when donning the protective gear.
This focus has seen eye creams and serums surging in Eastern markets, and signifies a pocket of opportunity for skin care brands in the West.  Products such Estée Lauder's Advanced Night Repair Eye Supercharged Complex that provide potent propositions for the area are set to soar.
While early numbers show color cosmetics are declining, the category has taken a different course in some key markets such as China. 
Chinese social media platform Little Red Book (小红书) quickly saw a new hashtag emerge at the start of the pandemic–#facemaskmakeup (#口罩妆), with tutorials showcasing the best approaches to half face makeup (口罩半面妆) while wearing a mask, with a specific focus on enhancing the eyes. In fact, during the first three months of 2020, Tmall reported a 40% growth in sales of eyeliners and eye shadows from international brands operating on its platform, including Huda Beauty.. The cult favorite brand initiated a "Spring Eye" challenge on Weibo along with top influencers Li Jiaqi and Becky Li. The trend has made its way to the West with vloggers creating similar mask-friendly makeup videos accentuating the eyes.
This shift is applicable to brows and lashes, as well. Australian brand Cangro, known for its eyelash and brow growth serums, saw an 88% rise in sales of its products in the first few months of 2020.
Key takeaway: With eyes as the main area exposed when wearing a face mask, support consumers in their quest to experiment and get expressive in that area. Offer efficacious formulas and creative makeup  for the eyes and create products that provide soft and groomed brows and amped up lashes.
Mask-wearing is now commonplace and will continue to be for the foreseeable future.  Pandemic aside, consumers are aware of their use and will increasingly turn to them as a protective solution during normal sickness–a practice that is already routine in East Asia. This new essential apparel has seen consumers shift their approach to beauty, creating new concerns and demands. The moment is here for brands to support them as they seek guidance on how to center their beauty around mask-wearing and as they look to effective solutions that will survive beneath them.
Saisangeeth Daswani (www.stylus.com) is the head of advisory—fashion, beauty and APAC—at trend intelligence company Stylus.