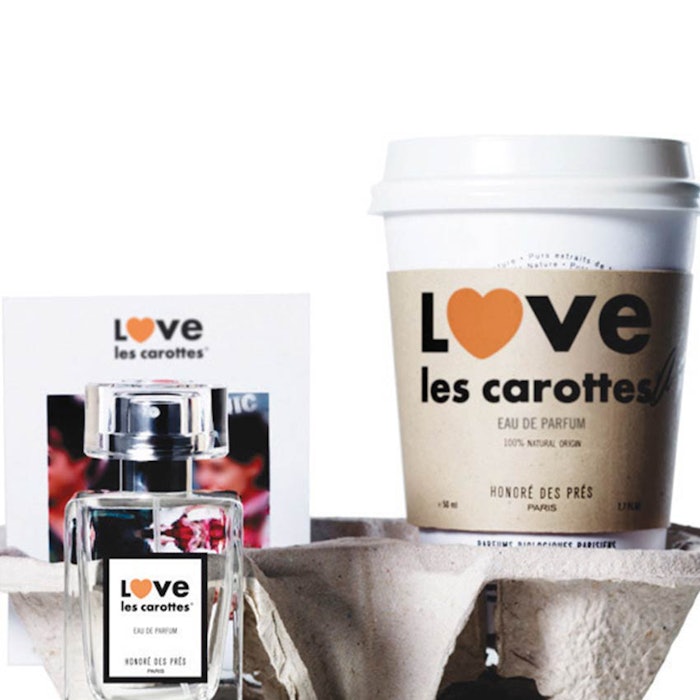 The organic personal care industry, including cosmetics, is forecast to grow at a rate of 9.6%, reaching $13.2 billion by 2018, according to Transparency Market Research. By 2020, the market is expected to reach $15.98 billion, according to Grand View Research.
Fragrance represents an emerging opportunity for beauty and personal care brands in this space. Here, author Laura Ziv explores several French brands' innovative approaches to this growing category. -Editor
If it is important to you that the food you eat is organic and the products you put on your skin are organic, increasingly, chances are that the fragrances you select will also be organic and ecologically sound.
Understanding "Organic"
What exactly are organic fragrances? The term "organic" is defined differently by various certification and governmental organizations around the world. However, organic in general refers to the way ingredients are grown and processed, particularly the prohibition of synthetic fertilizers and pesticides, as well as synthetic processing aids.
As a result, organic fragrances tend to be free of synthetic chemicals, those multisyllabic, "hard-to-pronounce" ingredients that consumers are increasingly concerned will be absorbed into their skin with perceived adverse health effects.*
The brand boasts the largest catalogue of essential oils in the world, with products from the five continents, including ylang ylang from Madagascar where Florame is involved in a development program.
Most importantly, organic differs from "natural" and "eco" in that only "organic" can be certified by governmental bodies such as the U.S. Department of Agriculture, thereby assuring clear standards and authenticity for consumers.
A French Organic Legacy
In France, the birthplace of modern perfumery, EcoCert (www.ecocert.com) is the principle certification body, and in fact, the very first organization to develop standards for organic products. The EcoCert standard, established in 2003, ensures the use of ingredients derived from renewable resources and manufactured using environmentally friendly processes.
EcoCert also ensures the absence of GMOs, parabens, phenoxyethanol, silicon, synthetic perfumes and dyes, and animal-derived ingredients (unless naturally produced by them, for example milk and honey). The certification also vouches for the biodegradable or recyclable nature of packaging, and that a minimum threshold (95%) of natural ingredients stem from organic farming.
Today, a number of French organic brands are responding to the demand for organic products perceived as "good-for-you" with EcoCert labels.
Haute Organic
Honoré des Prés is a luxury, eco-friendly fragrance brand that crafts organic fragrances from pure botanical ingredients. These "pure extracts of nature," as the brand calls them, are free from petrochemicals, coloring agents, phthalates and synthetic perfumes.
The name Honoré des Prés alludes to the sophistication of the brand by using a contraction of rue Faubourg Saint-Honoré and Saint-Germain-des-Prés, two of the most elegant areas in Paris. Indeed, Honoré des Prés' fragrances are refined and frequently described as "haute organic."
The brand's most well-known collection is I LOVE NY, which "encapsulates French couture and New York's unmistakable atmosphere," and is unconventionally packaged in distinctive, NYC-inspired coffee cups.
Vamp A NY features notes of tuberose, rum and Bourbon vanilla. Love Coconut is made with white coconut milk, coriander leaf and white cedar, and Love Les Carottes blends raw carrots with sweet orange and iris butter. 
Another collection, Les Verrines d'Honoré, is packaged in eminently collectable French-style marmalade jars that can be recycled after use.
Bee-inspired Beauty
Founded by a French biologist and beekeeper in 1983, Melvita is France's largest certified organic beauty brand. Headquartered in the Ardeche region of south-central France, Melvita was one of the first-ever brands to be granted the EcoCert label for certified organic products.
The name "Melvita" derives from two Latin words: "mel," meaning honey, and "vita," meaning life, which, according to Melvita's founder Bernard Chevilliat, "sits at the confluence between the plant and animal worlds."
Melvita's fragrances are based on single notes or ingredient pairings (Lime, Wild Roses, Gardenia & Ylang Ylang, Jasmine Bergamot).
All of Melvita's products are produced with "nature at heart" and are inspired by the unique relationship between bees and nature. The brand's first product was a hexagonal soap made from honey, now a flagship product. Approximately one-third of the products are based on bee products, like propolis, royal jelly, pollen or honey.
Melvita's fragrances are based on single notes or ingredient pairings (Lime, Wild Roses, Gardenia & Ylang Ylang, Jasmine Bergamot). From its eco-factory to the fair-trade sourcing of ingredients, the brand's focus is resolutely on safe and natural beauty products. Additionally, the Melvita Foundation supports projects that protect bees and promote organic farming.
Science-driven Organic
Patyka, a Hungarian word meaning "apothecary," is a Parisian beauty brand offering luxury organic skin care and fragranced body care. The brand's products feature active botanical ingredients and plant extracts that are refined by advanced biotechnology.
The collections are also highly sensorial, with luxurious textures and enticing scents, such as Precious Woods, Lotus & Cotton, Pearl Grape and Divine Neroli. Patyka's best-known product is Huile Absolue, described as a "sacred love elixir" with 12 organic essential oils. All of Patyka's products are EcoCert organic and environmentally sustainable, free of synthetic and toxic chemicals.
Soul of a Flower
Florame, an evocative name that is the confluence of the words "flower" and "soul" in French, specializes in organic essential oil-based beauty and aromatherapy products.
The brand boasts the largest catalogue of essential oils in the world, with products from the five continents, including ylang ylang from Madagascar where Florame is involved in a development program. Since 2008, the program has combined the production of high-quality essential oils that also promote social commitment to fair trade projects.
*Organic is not as simplistic as consumers might believe. Ironically, organic ingredients tend to be complex mixtures of naturally occurring chemicals with complex names. In organic passionfruit, for instance, one will find themselves consuming all-natural 3-mercapto-3-methylbutyl ethanoate.
Laura Ziv is a creative brand strategist specializing in beauty, fragrance and personal care. Her work spans trend analysis, innovation, ideation and concept development for brands. Ziv has a Master of Arts from Oxford University, and previously worked as a magazine writer and editor for international magazines based in New York.