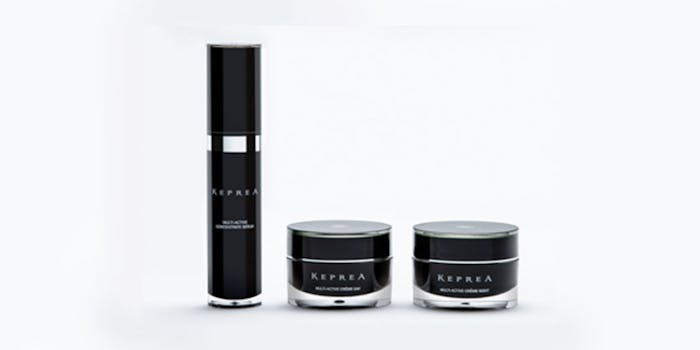 What it is: A three-piece anti-aging collection by Keprea
Claims: Formulated with resin from the Boswellia Frereana tree from northern Africa, which has been harvested for its anti-inflammatory qualities, and a new ECM9 enzyme complex, the collection is comprised of:
Multi-Active Crème Day: A nourishing, lightweight moisturizer that provides multiple benefits to reduce signs of aging. The cream is formulated to provide immediate and long-term benefits to improve fine lines, wrinkles and radiance, along with delivering nutrients to the skin.  
Multi-Active Crème Night: A night treatment to renew, repair and restore skin. The highly hydrating cream provides nourishment overnight and reduces the appearance of fine lines and wrinkles. The cream improves skin clarity and texture while stimulating collagen and elastin production.
Multi-Active Concentrate Serum: A concentrated serum that delivers the ECM9 proprietary complex, along with a blend of actives that work together to reverse signs of aging by reducing wrinkles, tightening and firming skin, and reducing UV damage.
Key ingredients: ECM9 complex, bio-placenta, niacinamide, resveratrol, vitamin C, alpine rose stem cell, hyaluronic acid
Price: $229 
Where to buy: www.keprea.com