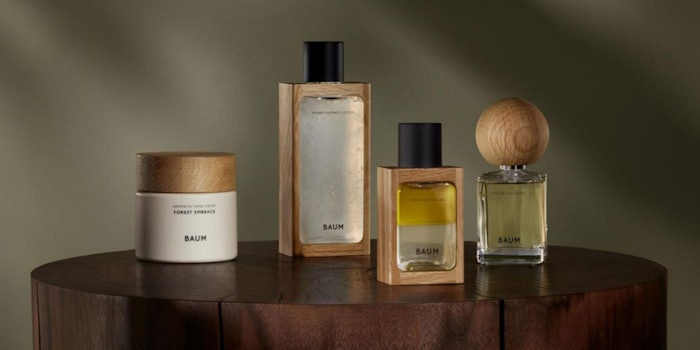 Shiseido has announced the May 2020 launch of Baum, a prestige skin care brand comprising 27 items. 
According to Shiseido, the brand was based on the concept of "coexistence with nature." Baum aims to realize a sustainable society that fully embraces the blessings of trees and preserves them for the future.
Products
Baum products were created to support healthy skin regardless of age or gender. More than 90% of the formula is of natural origin and the products contain no parabens, silicones or synthetic colorants. Baum products are blended with mainly tree-derived natural fragrances "to soothe, relax and calm" the user. 
Packaging
For Baum's product packaging, Shiseido utilizes upcycled wood offcuts from the furniture manufacturing process, in collaboration with Karimoku Furniture Inc., a manufacturer of wood furniture in Japan. The brand's packaging also consists of bio-based PET for some plastic bottles and recycled glass for glass containers. In addition, Shiseido offers product refill products and sells reusable bags to customers upon request, instead of providing free shopping bags.
Forest Conservation
The company will reportedly plant and grow oaks, used in packaging, in the "Baum Forest" in cooperation with Sumitomo Forestry Co., Ltd., a comprehensive housing and wood products corporation in Japan. Seedlings will also be grown in the Baum stores. The first planting is scheduled in 2021.