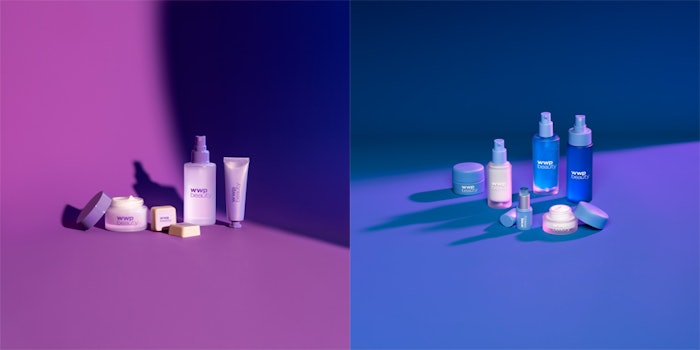 WWP Beauty has launched two new collections: BlueLight, which focuses on blue light protection, and TwiLight, which focuses on at-home beauty rituals.
Related: WWP Beauty x Jingdezhen Ceramic University Expansion Plans
The BlueLight collection focuses on protecting the skin from the effects of digital devices.
The collection includes: BlueLight Cloud Whipped Moisturizer, BlueLight Pro-Age Eye Cream, BlueLight Jelly Eye Serum, BlueLight Refreshing Elixir, BlueLight Makeup Erasing Serum and BlueLight Lip Renewal Stick.
Several accessories are also included in this collection, including the BlueLight Gua Sha, an Opalite healing stone that is used to massage product into the face for increased absorption and circulation, the Reusable Face Rounds made with bamboo charcoal, and a travel bag.
The TwiLight collection focuses on self-care and promoting rest, relaxation and rejuvenation with at-home, overnight skin care treatments. It features relaxing aromatherapeutic scents throughout the collection.
Products in the range include: TwiLight Rescue Salve, TwiLight Recharge Sleeping Mask, TwiLight Serenity Mist and TwiLight Lotion Bar. The accessories include a Weighted Sleep Mask, a Mask Applicator and a travel bag.
All items in both collections are made with clean, compliant, vegan and cruelty-free formulas, and sustainable packaging and accessory options using glass, PCR or PET materials.
Musa Dias, CMO of WWP Beauty, said, "Our lifestyles have been drastically altered in every way possible, including consumer priorities when it comes to skin care. As the source for everything beauty, we are intensely aware of the beauty industry trends emerging over the past year and are pleased to offer new product line ups that are aimed at offering our customers solutions in upcoming categories. Our new collections embrace rituals and self-care, while defending the skin from new environmental aggressors such a digital pollution from blue lights."