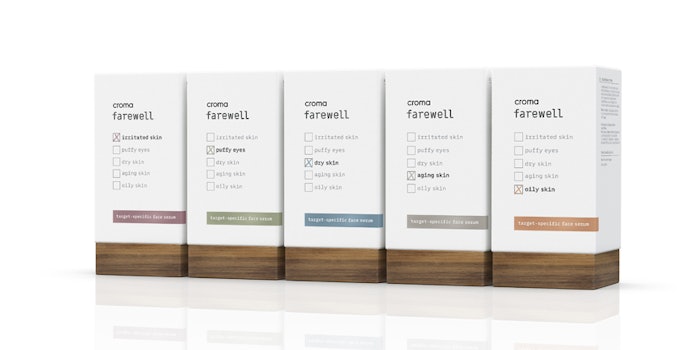 Croma-Pharma is launching a skin care brand, Corma farewell, featuring five serums, each designed for a specific skin care concern.
Related: Clear Start Launches Acne Acceptance Month Campaign
The line is produced in Austria and the products are vegan, cruelty-free and perfume-free. The launch includes: 
Farewell Irritated Skin: A target-specific face serum for irritated, sensitive skin. It is formulated with hyaluronic acid, madecassoside, niacinamide and d-panthenol.

Farewell Puffy Eyes: A face serum, designed for the eye contour, to fight the appearances of puffiness, dark circles and crow's feet. The formulation contains hyaluronic acid, d-panthenol and a complex of ash tree bark extract, organic silicon and vitamin B3.

Farewell Dry Skin: This serum contains ingredients including hyaluronic acid, niacinamide, d-panthenol and aloe vera and is said to nourish the skin and strengthen the skin barrier.

Farewell Aging Skin: Enriched with hyaluronic acid, madecassoside, vitamin C, marine ferment extract and a plant-derived retinol alternative, this serum is said to hydrate the skin and improve suppleness and firmness while reducing the signs of aging.

Farewell Oily Skin: Formulated especially for oily and acne-prone skin, this contains a zinc complex and plankton extract to reduce blemishes and clogged pores, while diminishing the facial sebum production. Niacinamide and wintergreen leaf extract regenerate the skin barrier.
Managing director, Andreas Prinz, said, "With the launch of Croma farewell, we are strengthening our focus on personalized skin care innovation, drawing on our many years of expertise as well as the latest scientific findings. Croma farewell meets the high standard of our medical products and perfectly complements our existing portfolio."
Ingredients (farewell irritated skin): Water (Aqua), Pentylene Glycol, Niacinamide, Ectoin, Sodium Hyaluronate, Panthenol, Lactic Acid, Madecassoside, Lysolecithin, Sclerotium Gum, Sodium Hydroxide, Pullulan, Xanthan Gum, Silica.