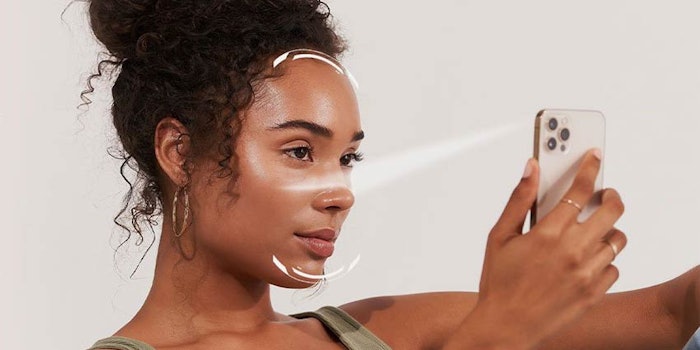 Vanity Planet (VP) has launched its AI skin analyzing technology, Skin Reporter, in partnership with Perfect Corp. The service analyzes complexion via a virtual facial scan and a smartphone to produce personalized results.
Related: Researchers Develop Facial Glycation Imaging Device
VP partnered with Perfect Corp. to curate the personalized virtual esthetician appointment using AI deep learning technology.
This technology digitally scans consumers' skin from their phones and recommends a curated list of devices based on their specific skin needs. The AI technology measures overall skin health, tracking for oiliness, wrinkles, texture and dryness.
The diagnostic analyzes four skin health metrics to give consumers personalized recommendations. The AI gives insights to consumers' skin after the scan to provide a further understanding of the product curation along with education about the recommended devices.
According to the company, the effectiveness of Skin Reporter has been analyzed and verified by dermatologists and skin care experts to ensure users receive accurate, safe and reliable skin care recommendations.
Alex Dastmalchi, founder and CEO of Vanity Planet, says, "Customers are at the center of all of what we do. As a continued effort to help our customers understand their skin care concerns, we challenge ourselves to deploy technologies that are best serving our valued customers. With that in mind, we invested in a cutting-edge AI-powered skin analyzer Skin Reporter to deliver state of the art results identifying key areas of skin care concerns."
Alice Chang, founder and CEO of Perfect Corp., says, "The clinical nature of skin care requires a diagnostic approach that is personalized for every face. Vanity Planet's Skin Reporter provides individualized, knowledge-based beauty devices that cater to consumers' specific and unique needs. By offering a preliminary assessment of skin health through a smartphone, beauty shoppers can be more conscious and confident in their skin care choices, finding the products that work best for them, saving time and money."
Access Vanity Planet's Skin Reporter at vanityplanet.com/pages/skin-reporter.