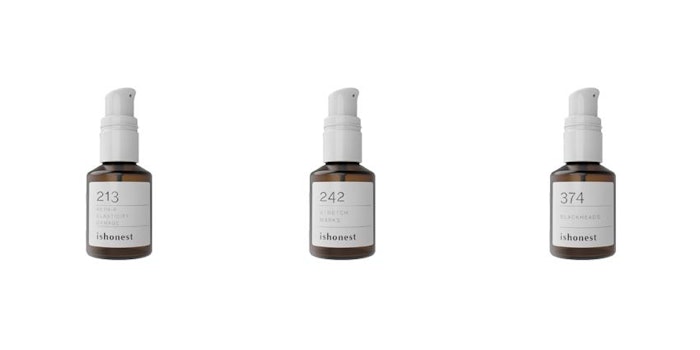 Ireland-based ishonest is a brand that seeks to "simplify the search for skin care and make skin care honest, transparent, and straight-talking" in a brick-and-mortar setting. 
The brand's system takes consumers through their concerns and target areas and thereby guides shoppers to products for their routine. All products are manufactured in Ireland.
Report: Carra App's Personalized Hair Care Routines  
The brand comprises more than 60 products soon to be available in more than 75 stores in Ireland and Germany, as well as at www.ishonest.com. 
The brands bestsellers include:
No. 501 - Fizzy Hair, the brand's only hair product, which features Actinidia chinensis (kiwi) seed oil and is by far the brand's top seller; 10-12 new hair care formulations will come in March of 2022.
No. 153 - Repair Skin Barrier, featuring Cucumis sativus seed oil, for moisturization with longer-term structural benefits. While the brand's humectants are an alternative to regular daily-use moisturizers, No.153 is for intense repair.
No. 213 - Repair Elasticity Damage, the brand's top-selling anti-aging product, featuring Opuntia ficus indica (prickly pear) seed oil. The brand has designed anti-aging products for various life stages, targeting elasticity damage (for those in their 20s), repair elasticity damage (for those aged 30-45), and address fine lines and wrinkles (for those aged 45-plus). No. 213 is reportedly best attuned to shoppers in their 20s, who comprise 70% of the brand's customer base.
No. 374 - Blackheads, the brand's second-best-selling product, featuring Limnanthes alba (meadowfoam) seed oil.