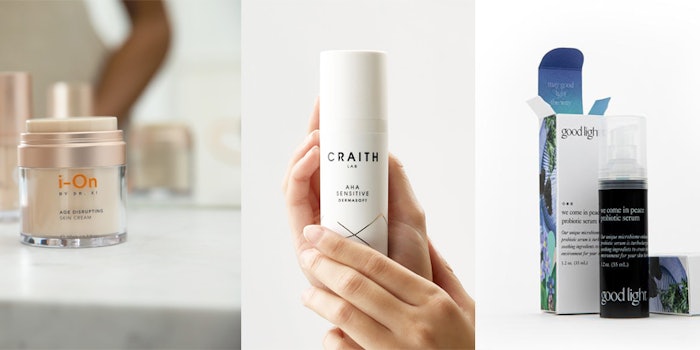 Craith, i-On and Very Good Light have announced the latest skin care launches from its brands. 
Related: Colorescience Expands Even Up Line with Multi-correctional Serum
i-On
i-On by Dr. Xi is launching two skin care products said to remove excess iron from the skin, launching spring 2021. 
Its Age Disrupting Skin Cream is said to prevent and reverse the signs of aging, and the Age Disrupting Total Performance Eye Cream is a gentle eye cream said to hydrate and smooth the skin around the eyes.
Both products are dermatologist-approved and contain Age-Disrupting technology, a patented formula that is said to remove excess iron from the skin's surface, thereby reducing the appearance of dark circles and creasing and giving the skin a more supple texture. 
The skin care products also contain peptides, "super-charged" forms of hyaluronic acid, Portulaca oleracea (purslane) extract, naturally derived olive-based squalane and De-Ironizing Inducer (DII) technology. 
The DII technology in i-On products is said to prevent skin damage caused by blue light the same way it prevents skin damage caused by UV rays.
Very Good Light
Very Good Light, a beauty and skin care publication, has launched a skin care line called Good Light. 
Good Light is a clean and gentle line of skin care with products including:
Cosmic Dew Water Cleanser, a gel-to-foam cleanser said to hydrate and improve the skin's barrier. Ingredients include glycerin, Laminaria japonica (seaweed), fructooligosaccharides and hyaluronic acid.

We Come in Peace Probiotics Serum, a microbiome-enhancing probiotic serum. Ingredients include bakuchiol, Lactococcus ferment lysate, carrot seed oil and blue tansy. 

Moon Glow Milky Toning Lotion, a toner that hydrates and exfoliates. Ingredients include meadowfoam seed oil, snow mushroom, niacinamide and ceramides. 
Craith
Craith has launched its third skin care line, the Gold Line, designed for mature skin.
The collection aims to protect the skin's barrier and help combat aging. 
The launch includes:
Ultimate Clean, a gentle cleansing milk.

Balancing Toner, a hydrating tonic with seawater and collagen.

AHA Essential, a gentle peeling exfoliant with selected fruit acid.

AHA Sensitive, a gentle peeling dermasoft with selected fruit acid as well as aloe.

Royal Collagen Serum, a day and night serum designed to eliminate wrinkles with ingredients such as hyaluronic acid and collagen.

Royal Collagen Serum Sensitive, a day and night serum said to activate skin generation with ingredients such as hyaluronic acid, collagen and aloe.

Inner Cell Eye Perfection, an eye cream with hyaluronic acid and argan stem cells.

Rich Cell Balance, an active night cream said to work by protecting the skin from environmental effects and to be anti-aging.

Cell Genetic, a cream with hyaluronic acid, collagen and epigenetic peptides.

Inner Cell Protection, a hydrating cream for day and night.

Signature HP-Cream, a mild day and night cream with proteins that are said to slow down the aging process. 

Elastic Gen Booster, a cream mask said to moisturize and firm the skin. 

Daily Gold Protection SPF 30, a tinted day cream that adjusts to the skin's color.

PP3 Complex, a restoring cream with EpiTech formula which has a triple effect on collagen synthesis. 

Refirming Neck, a serum made for the neck and décolletage and featuring antioxidative properties and vitamins. 

Sun Pro SPF 50, a coral reef friendly cream.

Handcell Protect, a cream with SPF 15 made for the hands.