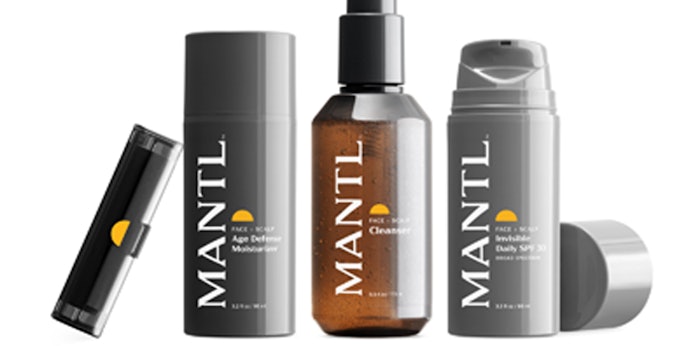 The latest round of beauty announcements include Mantl's partnership with Shift Marketplace, Casa Sandra's skin care line, Dermablend's CC Cream, Embody's The Retinol Gummy and more.
Related: Sally Beauty Strengthens its Hair Color Portfolio
Mantl
Men's cosmetic brand, Mantl, fronted and co-founded by Queer Eye star, Karamo Brown, has partnered with Shift Marketplace to launch its range of skin and scalp products on Amazon Marketplace.
The Shift Marketplace specialists will interact with Amazon's male health and beauty audience. Mantl's range of skin and scalp-care products are inspired by bald and balding men, yet is created for all males. 
Brown said: "To launch our premium portfolio of products to an international audience, and give all men the opportunity to embody our brand and bare their greatness with confidence, we needed to find a strategic partner who truly understands our industry and has the ability to deliver on a global scale."
He continued: "We've found the perfect fit in Shift Marketplace. The company's bespoke and collaborative approach, not to mention its track record in delivering exceptional commercial outcomes for multinational brands, is exactly what our business needs. I'm excited to embark on the next stage of our journey alongside the marketplace experts." 
Steven Berke, Shift Marketplace's co-founder and managing director, said: "Mantl and the story behind the brand connects flawlessly with our own values of working with disruptor clients and unique products." 
Tom Bagnall, Shift Marketplace co-founder and commercial director, said: "We're delighted to add Mantl to our growing portfolio of challenger brands in the health and beauty space. Our expertise in this area, combined with Karamo, Irene and Peter's deep knowledge and experience, is set to revolutionize the face of the online men's grooming market." 
Deciem
Deciem's in-store scent, Shop, has been bottled and made available in a room fragrance. 
The notes open on top with black poivre and cypress oil. The heart accord includes iso e super and chalk. The warm notes of guaiacwood, sequoia and fresh cedar are amplified with balsamic notes of labdanum resin, white amber crystals, white musk and patchouli. 
The late Deciem founder, Brandon Truaxe, partnered with London-based perfumer Azzi Glasser to create the Shop scent, which Glasser describes as "capturing the essence of Deciem's  abnormal yet welcoming space through the construction of notes and accords that blend together as a unique DNA print."
The Ordinary
Deciem's The Ordinary has launched new skin care, a concealer and is extending its supersized set.
The Ordinary Concealer is said to be a high-spreadability suspension system that offers high, yet buildable coverage with a real skin finish.
The formula is packaged with a thin nozzle applicator for precise application. It is available in 36 shades.
The Ordinary 100% Niacinamide Powder offers direct topical exposure of niacinamide.
This powder format offers a DIY experience that allows personalization of usage based on preference.
The Ordinary is also extending its supersized set with three new products in June 2021.
The line will include:
Salicylic Acid 2% Masque: 100 ml

Azelaic Acid Suspension 10%: 100 ml

Alpha Arbutin 2% + HA: 60 ml 
The new supersized versions can save an average of 35% in packaging weight and over 15% in shipping emissions.
Casa Sandra
Casa Sandra's new Sandra Plasencia line of skin care products have launched.
The formulas are backed by clinical testing and includes peptides to aid in the anti-aging process and the preservation of the skin.
The line is available through several different online retailers. 
Dermablend
Dermablend Professional has launched its new Continuous Correction Tone-Evening CC Cream SPF 50+.
The oil-free formula is said to offer weightless and breathable coverage, visible skin improvement over time as well as sun protection. It is formulated with active ingredients including niacinamide, baicalin, vitamin E and caffeine.
The formula also follows Dermablend's Skin Security Standards, meaning it is non-comedogenic, sensitive skin tested, allergy tested, fragrance-free and dermatologist tested for safety.
TaraPyle, VP of Dermablend, said, "We've seen beauty needs evolve tremendously in the past year and it could not be a better time to launch the new Continuous Correction Tone-Evening CC Cream SPF 50+. People are looking for skin-first products that will simplify their daily makeup routines and with our brand's #1 dermatologist recommended backing and trusted performance, our CC Cream is set to become a new fan favorite."
Embody
Embody has released The Retinol Gummy and a research report on the health and effectiveness of the gummies.
The Retinol Gummy is available in a strawberry flavor and contains 960 mcg of vitamin A (RAE), which represents 137% of the daily recommended value. 
The report from Embody states that when the gummies are taken as directed alongside a balanced diet, they are not expected to cause symptoms of hypervitaminosis A. It is also mentioned that the gummies could be an effective and safer alternative to prescription strength oral retinoids in the treatment of cystic acne.