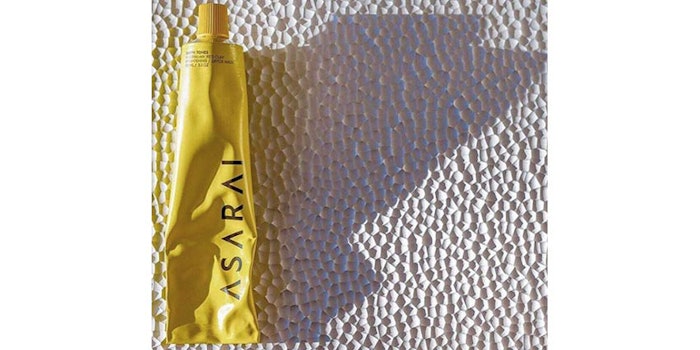 Australian brand Asarai has launched online at Urban Outfitters.
Asarai's range of gender-neutral skin care products are formulated without parabens, color, fragrance and toxins, and are cruelty-free. The six-sku line utilizes Australia's native botanicals such Kakadu plum, moringa seed oil and Australian red clay.
Founder Trish Rynenberg created the line after being diagnosed with an autoimmune disease in 2002. She began educating herself on ways to treat her diagnosis naturally, eventually becoming a certified neruopath. Today, her son Jay and his wife, Patrice, spearhead the brand.
Related: [video] Asarai Australian Skin Care Launches in the United States
"We are thrilled to have Urban Outfitters as our first retailer. Everything from our packaging to our product purpose is a great fit for the UO consumer and we are excited to work together spreading our message of a natural lifestyle," said Jay Rynenberg.
Items available on the Urban Outfitters website include:
Come Clean Cleanser ($29.95)—A makeup remover utilizing a gel-to-milk technology
Earth Tones Face Mask ($28.95)—A mask containing a red clay formula derived from the Australian outback
Ultra Light Moisturizing Cream ($48.95)—A vitamin-packed, lightweight moisturizer with the goal of leaving skin bouncier and healthier
Response Theory Daily Serum ($42.95) –A serum aiming to boost cell repair with a velvet finish
Sleepercell Retinol Cream ($44.95)—An overnight cream formulated to restore the skins brilliance, correct imperfection and reinforce cell defenses utilizing essential antioxidants and a retinol formula
Power Trip Vitamin Oil ($49.95)—An oil with essential vitamins, nutrients and antioxidants to smooth fine lines and protect skin