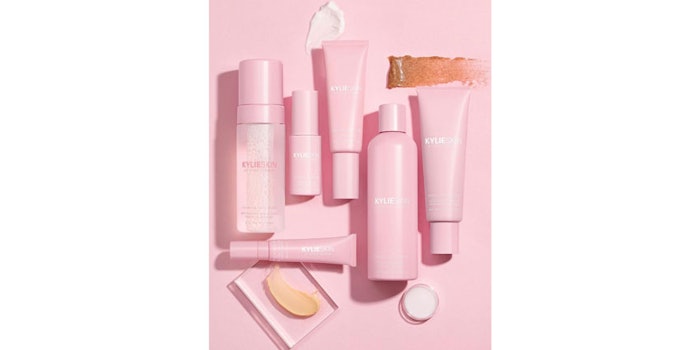 Kylie Jenner has set her sights on the skin care market. 
The young beauty industry mogul announced via Instagram the launch of Kylie Skin on May 22, 2019.
Products include:
Foaming Face Wash;

Vanilla Milk Toner;

Walnut Face Scrub;

Moisturizer;

Eye Cream; and

Vitamin C Serum.
Jenner stated in a separate post:
"Skin care and makeup go hand in hand and Kylie Skin was something I dreamt up soon after Kylie Cosmetics. I've been working on this for what feels like a lifetime so I can't believe I'm finally announcing! Building my makeup line from the ground up has taught me a lot and I'm so blessed with that knowledge to apply to my brand new company! Birthing a whole new team, manufacturing, fulfillment, etc. separate from my cosmetics line was challenging but here we are! I got the best of the best for you guys! Everything is cruelty-free, vegan, gluten-free, paraben, sulfate-free and suitable for all skin types. Make sure you follow @kylieskin to stay updated. I'll be revealing these amazing products very soon! The official launch date is 5/22! Yay!! So much love went into this. It all starts with skin. Stay tuned can't wait to share."

Update:
According to TMZ, Jenner has also filed a trademark for "Kylie Hair." The line will reportedly include shampoos, conditioners, oils, gels, mousse, hair dye, dryers, curling irons and brushes.