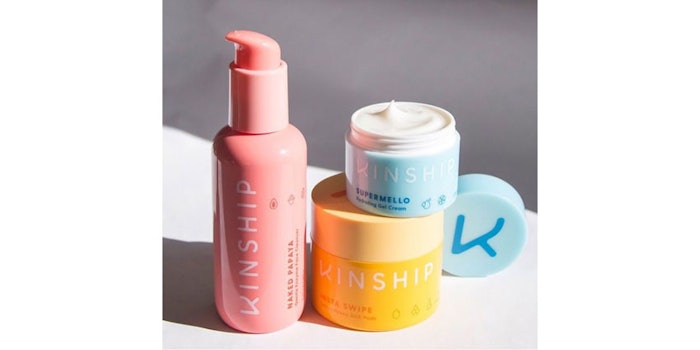 Kinship is a skin care brand specializing in clean, cruelty-free, plant-based formulas.
According to Kinship, more than 1,300 ingredients banned by the EU were excluded from its products. 
Additionally, the brand utilizes "earthly and ethical" packaging, including:
Jars made from Ocean Waste Plastic (OWP)—the brand's goal is to use 100% OWP;
Tubes made from post-consumer recycled (PCR) materials; and
Shipping materials made from Forest Stewardship Council (FSC) certified 100% PCR paper.
Products include:
Naked Papaya, a gentle enzyme face cleanser ($20);
Insta Swipe, lemon honey AHA pads ($22);
Supermello, a hydrating gel cream cleanser ($22);
Self Reflect, a probiotic moisturizing sunscreen zinc oxide SPF 32 ($25); and
Pimple Potion, a retinol and salicylic acid acne treatment ($18).