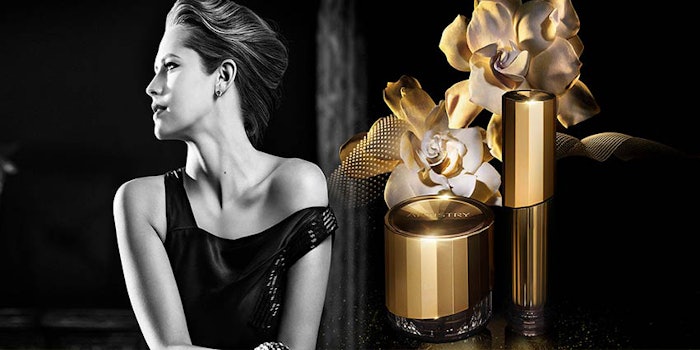 As consumers continue to prioritize experience and quality over ownership, premium beauty market growth has reached historic highs—6% in 2015, alone—supported by a growing shift toward higher-quality and more personalized solutions.
Pursuing these market forces, Amway has expanded its luxury skin care offerings with Artistry Supreme LX, a collection that includes the Artistry Supreme L Regenerating Cream and Artistry Supreme LX Regenerating Eye Cream, which reportedly "resynchronize and energize skin."
"This new generation of luxury skin care embodies the discovery and invention that sets the Artistry brand above and apart."
The resynchronization effect is the result of two key ingredients, according to Amway: Gardenia grandiflora stem cell extracts and the CellEffect24 Complex, which is enriched with 24-karat gold, Cardiolipin and L-Carnosine. The products also comprise green acerola cherry extract, Nutrilite spinach leaf extract and rhodiola complex.
The collection is contained within jewel-like metallic gold-finished packaging with cap closures that feature 24 facets.
"Inside Gardenia Grandiflora's stem cells, we discovered properties that allow the flower to flourish in even the harshest climates," said Paul Seehra, Ph.D., director of global technology discovery, Amway. "Combined with the powerful blend of highly efficacious and exclusive ingredients in our CellEffect24 Complex, this multi-phase technology replenishes, energizes, visibly repairs and protects skin so it looks and performs more like it did when it was younger."
"The Artistry Supreme LX Collection is a luxury skin care line like none other from the Artistry brand," said Jackie Nickel, Amway CMO for the Americas. "After using these incredibly luxurious formulas, the results are striking–skin looks younger and firmer."
Nickel added, "This new generation of luxury skincare embodies the discovery and invention that sets the Artistry brand above and apart. Innovation like this has elevated the Artistry brand to be among the world's top five, largest-selling, premium skin care brands."