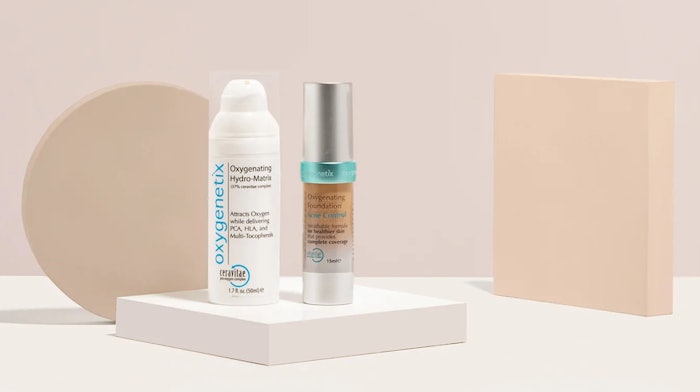 Image source: Oxygenetix
Oxygenetix offers medical-grade and pro-healing topicals that can be applied immediately following most aesthetic procedures. The products feature the company's ingredient complex Ceravitae.
Related: Elina Organics Launches Pore Purifying Oxygen Solution
The ingredient is formulated into all of Oxygenetix's products such as its foundations, concealer and moisturizers, which also help to target acne. 
Ceravitae is derived from Saccharomyces lysate, a yeast compound with pro-healing properties. It is said to promote oxygen uptake to skin cells, which in turn accelerates tissue growth and increases the proteins collagen and elastin with a net result of accelerated healing. These fresh cells create younger-looking skin.
Oxygenetix is reported to minimize patient downtime by camouflaging signs of a procedure while providing cellular turnover, accelerating the wound healing process. Ceravitae is said to provide up to 5× more oxygen uptake than the untreated control. Thus, with coverage and pro-healing ingredients such as Ceravitae, Oxygenetix delivers results that heal skin and conceal.
A total of 5 products is offered:
Oxygenating Foundation: Oxygenating Foundation helps skin to breathe, and protects and heals as users wear it. By using an aloe vera base, this foundation is both antibacterial and soothing. It goes on sheer but once set, users can build coverage for blemishes and give the finish that they desire.

Oxygenating Concealer: Oxygenating Concealer delivers high coverage with skin support benefits. Enriched with high-density pigments, this concealer provides stability and long-lasting coverage. One pass of Oxygenating Concealer conceals and helps soothe dark skin discolorations and compromised skin. The concealer conceals acne, rosacea and other skin sensitivities without irritation or clogging pores.
Acne Control Foundation: Oxygenating Acne Control Foundation clears not causes acne. Just like the regular foundation, it uses an aloe vera base instead of water or oils that attract bacteria to the skin, and also imparts antibacterial and soothing benefits.
Oxygenating Hydro-Matrix: Oxygenating Hydro-Matrix is a hydrating complex that helps deliver oxygen to the skin, reportedly replenishing it as well as delivering fast-absorbing, long-lasting hydration all day. 
Acne Control Hydro-Matrix: Finally, Acne Control Hydro-Matrix uses a maximum strength of 2% salicylic acid to gently treat troubled skin. Providing deep hydration, this anti-acne moisturizer softens skin while gently exfoliating; clears pores; fights ingrown hairs; and moisturizes.
Archived feature: PFC for Oxygen Delivery to Skin
Ingredients (Oxygenating Foundation): Aloe Barbadensis Gel, Isododecane, Titanium Dioxide (and) Methicone, Polyglyceryl -4 Isostearate (and) Cetyl Dimethicone Copolyol (and) Hexyl Laurate, Cyclopentasiloxane, PEG/PPG-20/15 Dimethicone, Saccharomyces Cerevisiae Extract, PEG-8, Dioctyldodecyl Dodecanedioate, Iron Oxides (and) Methicone, Vitis Vinifera (Grape) Seed Extract, Glycerine, 0-cymen-5-OL, Silica, Cyclomethicone (and) Disteardimonium Hectorite (and) Propylene Carbonate, Maris Sal, Dimethicone/Vinyl Dimethicone Crosspolymer.