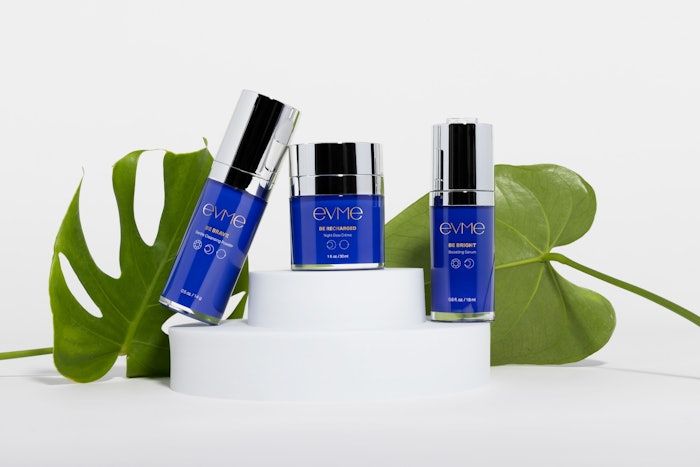 The prevalence of personal care product-related dermatitis increased 2.7-fold between 1996 and 2016, according to a Research Letter recenly published in JAMA Dermatology. It's no surprise, then, that allergist and immunologist Anjuli Mehrotra, MD, has launched Evme, a luxe skin care brand that reportedly uses non-irritating, allergen-free ingredients to cater to people with sensitive skin and those who suffer from skin allergies.
A study in Frontiers in Medicine found that about 60% of the world's population has sensitive skin.
But 90% of products labeled as hypoallergenic still contain major allergens that are harmful to allergy sufferers and people with sensitive skin, according to Mehrotra.
Therefore, she created Evme to take a "sans-allergenic" approach. According to the Evme website, "hypoallergenic" means "less allergenic." Evme's products are sans-allergenic, meaning they are formulated without allergens, per the brand's website.
Using scientific research and data and clinical experience, Mehrotra said she and her team identified and excluded thousands of potential allergens and irritants as they developed and tested the formulas. Evme's products are free of fragrances, allergenic preservatives, dyes, acrylates, parabens, sulfates and phthalates.
The team also created nonallergenic proprietary replacements for reactive ingredients like preservatives, emulsifiers, fillers, emollients and surfactants, according to Dr. Mehrotra.
The formulas for all three products incorporate fewer, essential ingredients to further ensure the products are nonirritating and allergen-free, per the brand.
Evme debuted with a three-step system:
The Be Brave Gentle Cleansing Powder features kaolin clay to gently clarify and purify the skin for a deep clean; vitamin C to brighten the complexion; and Nucifera nelumbo (lotus root seeds) for its anti-aging and calming properties. Mehrotra says she created the cleanser in powder form to intentionally keep water out of the product, lowering the chance of bacterial growth.
The Be Bright Boosting Serum is formulated with antioxidants like sodium ascorbyl phosphate (a gentler version of vitamin C) as well as sodium hyaluronate and Ophiopogon japanicus root extract to hydrate and plump the skin and restore the skin's barrier.
To moisturize and revitalize the skin, the Be Recharged Night Glow Crème is formulated with anti-aging, plumping ingredients, including squalane, sea buckthorn, sodium hyaluronate and sodium ascorbyl phosphate.
The packaging for the cleansing powder and night crème are refillable.
Evme is selling the three products together as a subscription. Prices range from $99 for a one-time, introductory kit to $99 a month for a 12-month subscription to $129 a month for a month-to-month subscription.
Mehrotra, the brand's CEO and founder, said, "As an allergist, I have treated thousands of patients with skin allergies and really had a lot of frustration in finding products for my patients. … There was not one single product that I could recommend to them wholeheartedly that wasn't going to cause some sort of reaction. The problem is everybody has a different type of allergy. What we needed to build was something that was not widely allergenic, nonirritating. And there wasn't anything like that out there. Evme is a brand that is different from other hypoallergenic brands that you've seen. What I really wanted out of our product line was for people to feel like they could put this on and not question whether or not these ingredients would be reactive or not."
Be Brave Gentle Cleansing Powder
0.5 oz
Ingredients: Oryza Sativa Starch, Sodium Myristoyl Glutamate, Kaolin, Sodium Bicarbonate, Nelumbo Nucifera Seed Powder, Sodium Ascorbyl Phosphate, Sodium Hyaluronate, Amylopectin, Dehydroacetic Acid
Be Bright Boosting Serum
0.6 fl oz
Ingredients: Aqua/Water/Eau, Sodium Hyaluronate, Glycerin, Gluconolactone, Sodium Ascorbyl Phosphate, Ophiopogon Japonicus Root Extract, Maltodextrin, Dehydroacetic Acid
Be Recharged Night Glow Crème
1 fl oz
Ingredients: Aqua/Water/Eau, Glycerin, Squalane, Sodium Ascorbyl Phosphate, Gluconolactone, Oryza Sativa (Rice) Bran Oil, Sodium Hyaluronate, Hippophae Rhamnoides Seed Oil, Xylitylglucoside, Anhydroxylitol, Xylitol, Maris Aqua/Sea Water/Eau De Mer, Oryza Sativa (Rice) Starch, Arginine, Sclerotium Gum, Xanthan Gum, Dehydroacetic Acid, Ethyl Lauroyl Arginate HCL