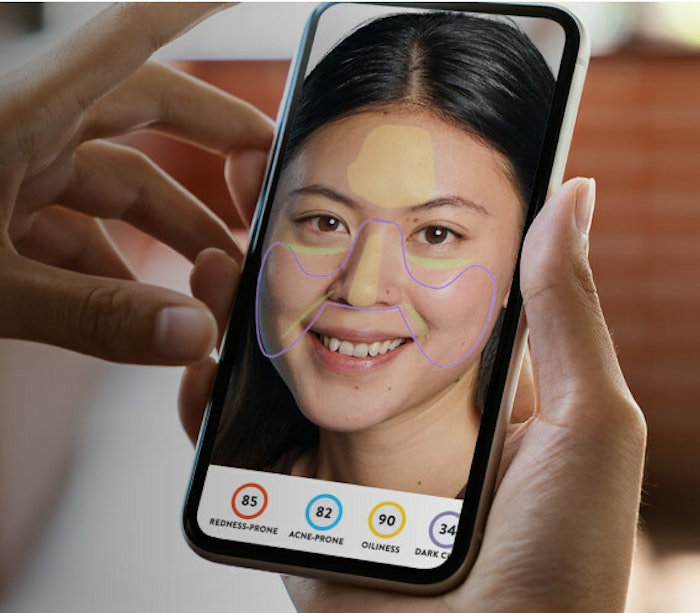 Cetaphil has launched its Cetaphil AI Skin Analysis, a comprehensive skin analyzer offering personalized skin assessment scores and skin care regimen recommendations in seconds, powered by Perfect Corp's AI Skin Analysis technology.
The tool's technology compares a selfie taken by the user to a database of 70,000 diverse skin images to create an inclusive, personalized report that reveals the skin type, skin concerns and proneness to various skin conditions. 
Consumers can then leverage the results to make more informed skin care decisions.
Perfect Corp.'s AI Skin Analysis Technology recently underwent validation testing at the Wake Forest School of Medicine, where it was confirmed to have a 95% test-retest reliability rate, delivering consistent, highly accurate skin assessments with each scan.
Silvina Nordenstohl, head of U.S. at Galderma, said, "As the leader in sensitive skin care science, we are committed to innovating inclusive, personalized solutions that ease the worries of those with this common skin concern. We are proud to offer the Cetaphil AI Skin Analysis as a complement to our existing Cetaphil Skincare Finder, further helping consumers select which of our 70+ product solutions may be right for them and taking the guesswork out of daily skin care for sensitive skin."
Alice Chang, Perfect Corp. founder and CEO, said, "We are thrilled to partner with Cetaphil on their AI Skin experience. AI skin technology has become essential to provide consumers with personalized skincare experiences. With the power of advanced AI tech, Cetaphil's enhanced retail journey will allow customers to understand their skin and the product regimens needed to their skin goals."