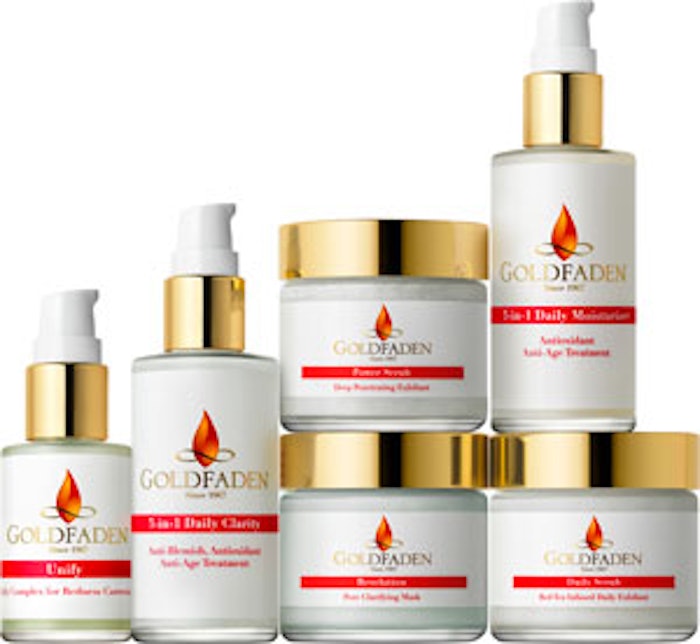 I love the summer sun! Nothing is more enjoyable than basking in the sun's shining rays, warming your face, calming your body, and tanning your skin for that nice summer glow.
However, as much as I enjoy those radiant rays, I cannot help but worry about the detrimental effects sun exposure can have on one's complexion. In order to counteract spending time in the sun, I set out to find a product that would help me fight sun damage, as well as the signs of aging, that sun damage can cause.
The product I found most capable of putting my sun damage woes at ease is this month's Breakout Brand—Goldfaden Skincare.
Around since 1967, Goldfaden is hardly a recent Breakout Brand, but lately it has become a favorite among celebrities like Jennifer Lopez, who is famous for her luminous glow. Goldfaden was developed by Florida-based dermatologist Dr. Gary Goldfaden, known for his natural approach and signature organic red tea-based formulations. Dr. Goldfaden is dedicated to exploring the newest ground-breaking developments in skin care, seeking out the latest trends on topical melatonin, stem cell, and DNA technology.
My favorite product from the line, Goldfaden Sleep Renewal Night Cream, offers a unique signature formulation including melatonin, a natural compound that regulates the sleep process. Aiding the body in a more restful night's sleep, skin cells are allowed to perform optimal rejuvenation during the night while the body is relaxed.
Using a unique, organic stem cell found in a rare Swiss apple, Dr. Goldfaden developed another of my favorites, Goldfaden 3-in-1 Daily Moisturizer, which keeps skin hydrated, moisturized and nourished. Perfect for a gorgeous, dewy, bronzed summer glow.
While the sun is shining, stock up on as many Goldfaden products as you can, head outdoors, and enjoy the season. Be confident knowing you are beautiful, and Goldfaden is on your side.
The Goldfaden collection is available at select boutique druggists and beauty emporiums in the skin care and natural markets. For information on the complete Goldfaden product collection and distribution, please visit www.goldfaden.com.