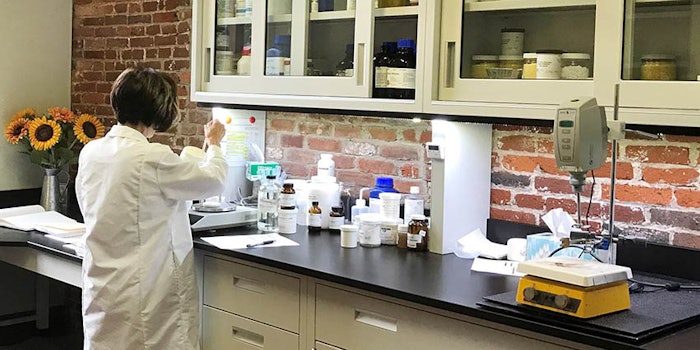 In today's beauty and personal care world, consumers are demanding fewer, better and safer ingredients in their products. Botaneco says its latest technologies address all three concerns for a range of sun, skin and hair care applications. The firm recently opened a center of excellence in Lambertville, New Jersey, to highlight its sustainable innovations, including:
CapSol, a sunscreen oleosomes technology that allows formulators to significantly reduce the UV actives required to achieve SPF levels in anti-aging and SPF daily wear products
Hydresia oleosomes, a natural personal care emulsifier
Safflower-derived Karmyn protein, which functions as a colloid with skin and hair protection properties—including color defense
To date, Botaneco's innovations have appeared on the market in products from Jurlique, Jason, Aveda, California Baby, Dermalogica, Burt's Bees, YesTo and others.
By reducing the load of actives and/or improving product texture, the ingredient could make adoption of SPF products far more palatable for the consumer.
The multifunctional oleosomes, derived from non-GMO California-sourced safflower plants*, perform as natural delivery systems, with an inner structure that contains triglycerides and vitamins surrounded by a phospholipid bilayer and encapsulated by proteins.
The oleosomes are extracted from the seeds via a low-carbon-footprint process that primarily uses water and grinding. The resulting materials are inherently gluten-free.
By opening its Lambertville lab, Botaneco is now able to showcase formulation possibilities and prototypes for U.S. customers. Prototyping services include homogenization, stability testing, in vitro studies and particle-size analysis.
CapSol: for Cleaner, Simpler SPF Products
Vince Gruber, chief innovation officer of Botaneco, noted that if daily wear moisturizing SPF products don't feel pleasant to wear, consumers simply won't use them—a huge challenge for those seeking to boost the public's adoption of safe sun protection habits. That's where CapSol comes in.
CapSol represents a "step change" innovation, according to James Szarko, president and CEO of Botaneco. The multifunctional technology acts as a primary and secondary emulsifier, offers hydration benefits and allows for high SPF products to offer a pleasant skin feel by reducing the required load of organic UV filters by 50–80%.
Botaneco is now able to showcase formulation possibilities and prototypes for U.S. customers.
A typical SPF 30 product may contain 20–30% organic UV filters, but in one Botaneco demonstration formula comprising avobenzone, octinoxate and CapSol, the total amount of actives was reduced to about 2%. That's a significant reduction, particularly in a category routinely scrutinized for the type and amount of actives used in formulations.
In mineral sunscreens, CapSol's small particle size (3–5 microns) can improve texture and product spreadability and offer a consumer-preferred lack of whitening. By reducing the load of actives and/or improving product texture, the ingredient could make adoption of SPF products far more palatable for the consumer.
CapSol can be applied to daily wear SPF products, moisturizers, anti-aging products, color cosmetics and sun protection products. The technology is globally compliant and cold-processed, keeping its carbon footprint low.
Hydresia: Multifunctional Hydration
Botaneco's Hydresia acts as a primary and secondary emulsifier in formulations and imparts hydration, supports moisture retention and absorbs quickly for a luxurious, non-greasy feeling on skin. The ingredient can be applied in leave-on and rinse-off systems, face care, hand and body care, sun care, lip care, hair care, color cosmetics and makeup removers.
The cold-processed material contains vitamin E and so offers antioxidant properties. The company offers a premium almond variant of the technology for more luxurious formulations.
Karmyn: Hair Defense
Karmyn is produced from the protein that encapsulates the triglycerides, vitamins and phospholipid bilayer in the seeds. The thermally stable, native natural high molecular weight protein has applications in hair and skin care, particularly hair color retention and defense from chemical damage.
The ingredient can be formulated into shampoos, conditioners and hair lotions. The company is currently researching the material's application in thermal protection for the hair.
Center of Excellence
Botaneco Inc. was launched in 2012, but the roots of the company's technology date back to research conducted at the University of Calgary in the late 1980s. Botaneco has upgraded its Calgary facility in recent years and opened an office and R&D lab there. The company has also established formulation chemists in Montreal and Toronto and, most recently, unveiled its center of excellence in Lambertville.
Vince Gruber, Ph.D., the company's chief innovation officer, is based in Lambertville, as is Diane Nordstrom, senior formulation chemist. The site brings the company's innovation closer to U.S. customers, said Szarko. There, the Botaneco team is able to show off the company's ingredients and latest product demos.
*Botaneco is also able to derive oleosomes from canola, safflower and other seeds.