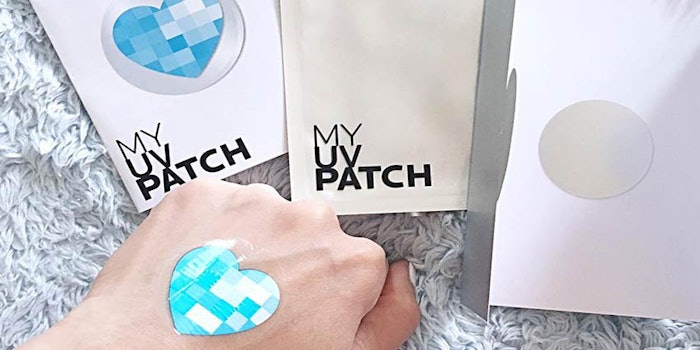 The My UV Patch stretchable skin sensor and mobile app, which L'Oréal debuted at the Consumer Electronics Show in January, has now been launched by Roche-Posay. Can it help with Americans' poor sun exposure habits?
"Together with La Roche-Posay dermatologists like myself, we share a mission to help increase sun aware behavior," said Alysa Herman, MD. "La Roche-Posay recently commissioned a global study, which surveyed 19,000 women and men and found a huge gap in consumer behavior: even though 92% were aware that unprotected sun exposure can cause health problems, only 26% of Americans protect themselves all year round, whatever the season. With the new My UV Patch, for the first time, we are leveraging technology to help individuals manage their sun exposure behavior through real-time knowledge."
The sweat- and water-resistant sensor (50 micrometers thick) and accompanying app monitor UV radiation in real-time by measuring sun exposure. My UV Patch adheres directly to the skin and reportedly "factors in skin tone to measure exposure to the sun."
The sensor's dye changes color depending on level of sun exposure. The app provides users with a personalized report on their UV exposure once the consumer uploads an image of his or her patch.
According to the company, "This analysis takes into consideration not only the information registered by the patch, but also skin type, if sunscreen was applied or not, and the UV index in the user's location."
The My UV Patch mobile app then tracks the user's UV exposure and informs them of the total level. The sensor will be made available for free on La Roche-Posay's website and via sepect physicians this summer.