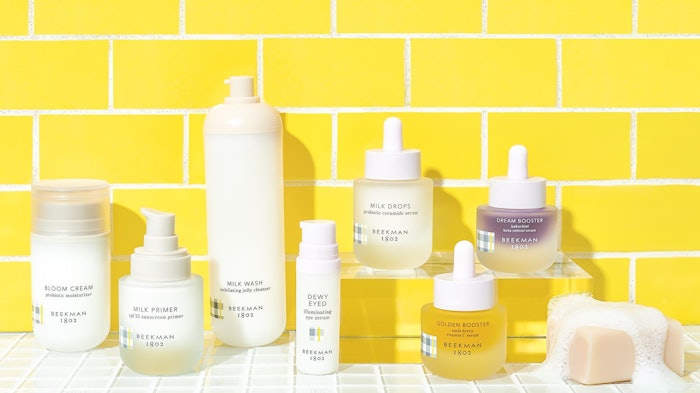 Eurazeo is acquiring a controlling stake in Beekman 1802 by investing $62 million out of a total of $92 million; co-investors include Cohesive Capital Partners and the Cherng Family Trust. The investment will reportedly support the continued expansion of Beekman 1802 across channels, categories and geographies. 
Marc Rey, former CEO of Shiseido Americas, will join the company's board of directors as chairman, alongside Adrianne Shapira, managing director, and George Birman, principal at Eurazeo. 
Eurazeo has invested more than $600 million since 2017, including with Pat McGrath Labs and Aroma-Zone.
Of the move, Beekman 1802 CEO, Tomei Thomas, told Global Cosmetic Industry:
We are heading into the next chapter of growth for Beekman 1802, where we will be rapidly expanding our team and brand awareness, and we wanted a partner to help us navigate this next phase of growth.




We will be making new investments in digital and ecommerce and expanding our existing retail partnerships. We believe that the microbiome is the future of clean beauty and will use a portion of the investment to further our research and development in microbiome skincare that is safe for sensitive skin.




Beekman 1802, co-founded by Dr. Brent Ridge and Josh Kilmer-Purcell, is a brand rooted in kindness. Over the last 10+ years, team Beekman 1802 has weaved kindness throughout everything we do, and have built an strong community of neighbors that cherish the brand and our purpose. With this solid foundation in place, we were looking for a true partner to take us to the next level. We did not need capital just for capital–our goal was to partner with experts in consumer brands, and that is what led us to Eurazeo.    
Brent Ridge and Josh Kilmer-Purcell, Beekman 1802 co-founders, noted: "When we started Beekman 1802 over a decade ago, we were focused on helping our community; over the years we have been fortunate to grow that community near and far through our unique products that are kind to sensitive skin and our use of Kindness as a framework for wellness and well-being. Today we couldn't be more excited to embark on Beekman's next journey together with Eurazeo, a partner with strong brand building expertise that will help us grow our community of neighbors and spread kindness globally."
"Brent, Josh and the entire Beekman team have created a truly special brand that resonates with today's beauty consumers seeking aspirational yet accessible products that are clean and effective," said Shapira. "With kindness at its core, Beekman is also spreading beauty from within. We are thrilled to partner with Beekman to propel their next chapter of growth, leveraging our deep industry expertise to help them reach consumers on a global scale in the years ahead."
"The beauty industry continues to be marked by tremendous innovation and growth as consumers seek products and brands that are both effective and clean," said Rey. "Beekman's powerful combination of being a truly authentic brand with excellent products and strong leadership is a winning one, and I look forward to supporting its growth by leveraging my global experience developing and leading iconic beauty brands."