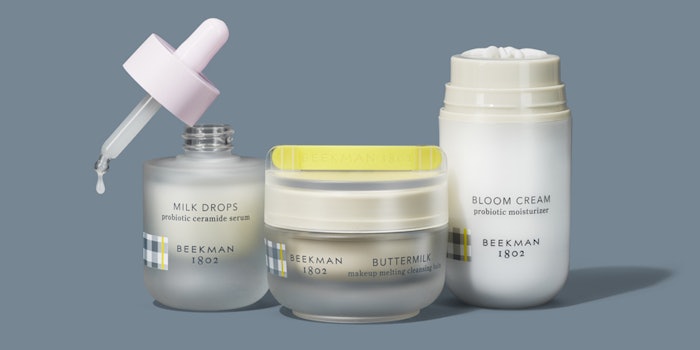 Beekman 1802 has become the first and only skin care brand at Ulta to be officially certified as microbiome-friendly.
Related: Antipodes Recovers Skin with Probiotic, Hyaluronic Acid Water Cream
Beekman 1802's goat milk and probiotic skin care range was created specifically for sensitive skin and its microbiome. Its products were tested by MyMicrobiome, which measures the impact and efficacy of the product on the skin's microbiome.
Beekman 1802 products that are certified as microbiome-friendly include: Bloom Cream Moisturizer, Milk Drops Ceramide Serum, Pure Facial Wipes, Milk Wash Cleanser and Dewy Eyed Depuffing Eye.
Global Cosmetic Industry recently interviewed Brad Farrell, CMO of Beekman 1802, about the certification. 
How is this efficacy being communicated in marketing and social media? 
We are very excited to be the first brand in Ulta to have this microbiome-friendly certification for our goat milk and probiotics skin care range.
While the microbiome is a big trend in the beauty industry, it is a new and complex topic for most consumers, so we are working to educate our neighbors (aka our customers) and social media followers on the microbiome and why it's important. 
As such, we have been leveraging our co-founder, Dr. Brent Ridge, a physician specializing in aging and microbiome, to host Facebook and Instagram Lives to discuss the microbiome, how Beekman 1802 has used decades of research and science to develop products specifically formulated for sensitive skin and the microbiome, and talk about the MyMicrobiome certification and its importance.
To further highlight our certification, we hosted an Instagram Live on our Beekman 1802 channel with Dr. Kristin Neumann from MyMicrobiome who conducted the testing and found the results. In addition, we will be utilizing the certification seal on our website, retail displays, marketing assets, educational materials for retail staff and on our product packaging.
What is the importance of certifications in standing out in the market?
We understand that consumers have a lot of different options when it comes to skincare. We also know that consumers are really doing their research and being very mindful when it comes to products they want to purchase—looking into ingredients, efficacy of formulas, environmental impact, brand values, accreditations, etc.
It's very important to us as a brand to be as transparent as possible when it comes to the ingredients we use, that we clinically test our products to make sure their safe for sensitive skin, Leaping Bunny certified Cruelty-Free, a member of Ulta's Conscious Beauty program, and now microbiome-friendly certified.
Similar to clean beauty, up until recently, there wasn't an easy way for consumers to know if something was microbiome-friendly. As a brand who developed skincare specifically for the microbiome after years of research, it was really important to test our skincare for scientific proof of the product's efficacy and impact on the microbiome.
As a result, the certification helps the beauty community easily identify products that meet requirements and standards to keep the microbiome healthy and balanced.