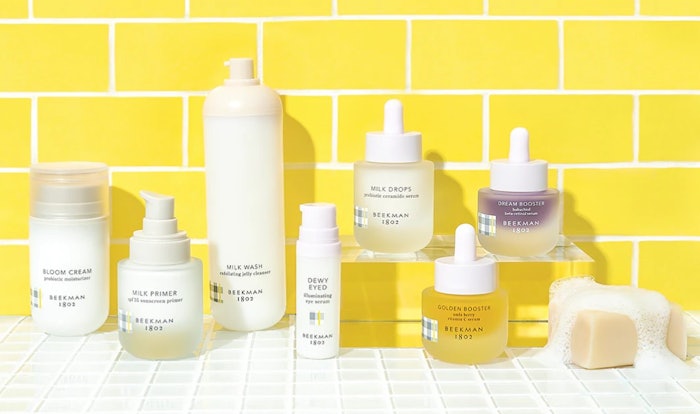 Beekman 1802 has named Jill Scalamandre, who is currently the chairwoman of Cosmetic Executive Women, its CEO. She succeeds Tomei Thomas, who will now serve as the company's chief operating officer.
Scalamandre will bring her expertise to accelerate company growth, propel international expansion, and drive product innovation for the brand's science-driven microbiome skin care kind to sensitive skin. 
Prior to this role as CEO, she served as global president of bareMinerals and Buxom Cosmetics at Shiseido. Those brands were recently acquired by Orveon.
Beekman 1802 generates an estimated $75 million to $100 million in sales, and is sold at Ulta Beauty, ulta.com, beekman1802.com, QVC and HSN and in independent retailers.
Scalamandre said, "I am thrilled to be joining as CEO. The Beekman 1802 team has built an incredibly solid brand foundation rooted in authenticity, kindness, and products that revolutionize clean skin care with goat milk science. This has come together to deliver an inspiring brand—one incredibly well-positioned for the interests and demands of today's global consumer. By leveraging my experience, I am honored to help Beekman 1802 capitalize on its exciting next chapter of growth."
Marc Rey, Beekman 1802's chairman of the board, said, "With her strong vision, industry experience and collaborative style, I am confident that Jill will work successfully with the team to take this great brand to new heights."
Adrianne Shapira, Eurazeo brands managing director and Beekman 1802 board member, said, "With Jill Scalamandre at the helm, Beekman 1802 is ready to blast off. Jill's values align with the brand and its co-founders which will catapult the brand to new channels, new geographies and most importantly new faces. Kindness is key and this brand is kind to all it touches—its team, its neighbors, and its planet."
Brent Ridge, Beekman 1802 cofounder, said, "The next phase of growth for Beekman 1802 is pivotal. We are confident that Ms. Scalamandre's vision, leadership and deep understanding of strategic growth will enable us to reach consumers on a global scale, lead innovation around microbiome skin care, and spread our mission of kindness across the world."