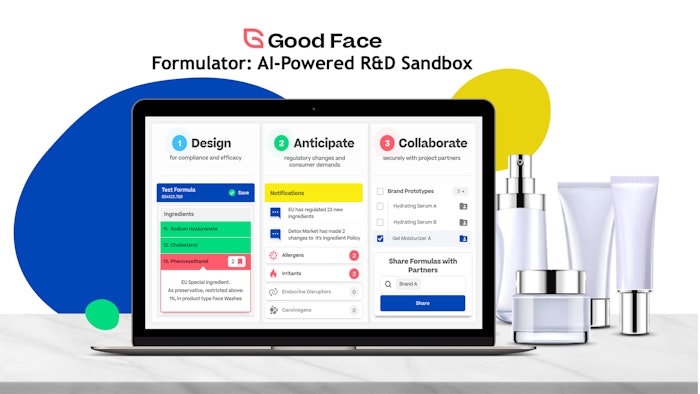 Goldn and Good Face Project are teaming up to pair their web-based Cosmetic Product Builder and Good Face Formulator efficacy and safety platform, respectively, thereby simplifying the beauty product development process.
(To learn more about the power of digitalized product innovation, view Goldn's briefing here.)
Per the companies, the partnership will provide access to complimentary and "key" areas on both platforms. 
The AI-powered Good Face Project features more than 120,000 ingredients mapped across 15 dimensions of efficacy and safety. Goldn's platform, meanwhile, is designed to streamline product development and sourcing to speed time to market.
"Thanks to our partnership with Good Face, we will help even more beauty brands and cosmetic suppliers simplify complexity across different phases of product development," said Arianna Andrews, CCO of Goldn. "This partnership expands our audience's digital tool kit, giving brands, formulators and manufacturers access to formulation and regulatory automation in combination with Goldn's Cosmetic Product Builder—slashing product development time and increasing go-to-market success."
"Linking the Good Face Formulator and Goldn platform enables us to provide immense value to brands and manufacturers that are in the critical formulation phase of their product development journeys," said Iva Teixeira, co-founder and CEO of Good Face. "At the core of this partnership is our mission of helping product development teams simplify workflows, improve productivity, and ultimately focus on building better products for their core audiences."