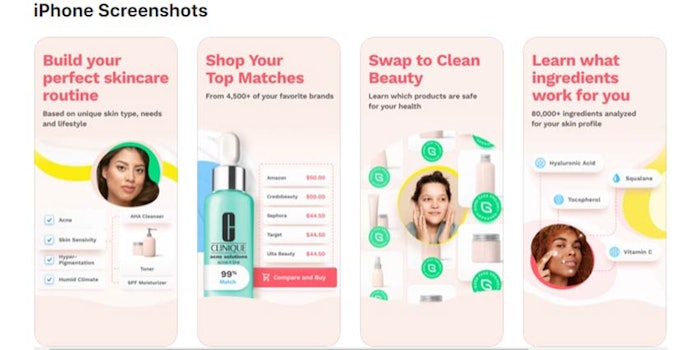 The Good Face Project, a data-driven index of cosmetic ingredients, has announced the availability of its new app for iOS mobile devices. Using AI algorithms, the Good Face app prompts users to answer questions regarding their skin care needs and goals, factoring in lifestyle choices and other natural elements, to provide a personalized, shoppable skin care regimen of clean beauty products available on the market. Additionally, the app is offering beauty brands an insight into consumer needs.
With a commitment to clean beauty, and a founding team of engineers and data scientists, The Good Face Project has analyzed more than 45,000 products, and graded over 80,000 individual ingredients across 15 dimensions of safety, effectiveness and cosmetic benefits. It provides users with a completely data-driven analysis of the best brands and products on the market, specifically tailored to their needs.
The index reached 117 member brands in July. Brands that have been assessed and joined the Good Face Index discovery platform include Ursa Major, 100% Pure, Unsun, Odele, Kelsen, Suntegrity, Odele Beauty and Angela Caglia.
The Good Face Project CEO and co-founder, Iva Teixeira, projects that the Good Face App, which launched in June, would have more than 50,000 users by the end of August. The core users are millennial moms, says Teixeira, who "want to find that safe sunscreen for their toddlers, an aluminum-free deodorant for their partner and personalize their own skin care routine, all in one place."
More than 30% of app downloads are organic and 27% of app users complete the full skin quiz which enables Good Face to "deeply personalize" product recommendations based on skin needs, conditions and goals.
"This is an unprecedented rate of engagement exemplifying the need for trusted personalized advice in the industry," says Teixeira.
She adds that Good Face Project Approved brands experience 3.2x higher conversion rates both on its site and in the app. The clean standard's seal will begin appearing on products' packaging in the coming months. The Good Face Project is among 10 retail tech startups accepted to the Target Tech Accelerator.
The deep learning engine behind The Good Face Project continuously analyzes scientific data to weed out harmful ingredients that may otherwise be included in top-selling products.
In addition to its consumer benefits, The Good Face app provides clean beauty brands with a new outlet through which to make sales, especially critical in the midst of the changing retail environment impacted by the COVID-19 pandemic.
"Each year, nearly 3,000 new beauty brands are launched in the [United States], and while there never seems to be a lack of options when it comes to makeup and skincare, there is still a major lack in regulation," says Teixeira. "Some of the industry's top brands are still including ingredients like formaldehyde and carcinogens in their products, making them entirely unsafe to use, but not regulated enough to be pulled from shelves. This was the impetus for founding The Good Face Project alongside my co-founder, Lena Skliarova. The launch of the Good Face app is a huge step forward in our continued commitment to put consumers at the center of the beauty industry and empower them with information about the products they're using."