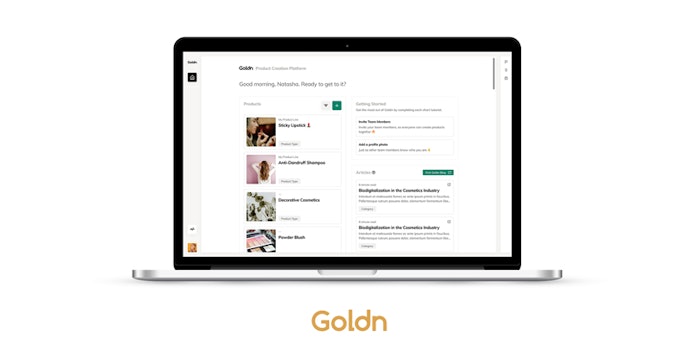 Goldn GmbH has launched Goldn Product Builder, a cosmetic product development tool to help beauty brands and cosmetic product developers create formula-based products easier and faster. A free virtual walk-through of the platform will take place on Tuesday, October 12, 2021. 
Goldn's Product Builder guides cosmetic product creators through all phases of development, reportedly streamlining the building process from ideation to regulatory approval. Per Goldn, the digital end-to-end solution provides individuals and small teams a single platform to simplify product creation and significantly decrease time to market.
The Goldn Product Builder platform includes:
Ideation: leverage idea boards to find and share inspiration for new products
Product Brief: utilize templates to create and share product specs with suppliers
Guided Tasks: complete critical milestones for each stage of product development
Collaboration: manage teams and contributors in a secure, single online space
Launch: minimize risk and go to market simply and delightfully
Udo Eberlein, CEO of Goldn, said: "Getting to market with a formula-based product in the personal care industry is challenging. The complex and time-consuming process requires tools that are technical and complicated. At Goldn, we are bringing the necessary people, goods, and guidance all together in a platform designed specifically to support cosmetic creation at launch. This intuitive and innovative solution will significantly reduce development time for most users."
To register for a tour of the Goldn system, sign up here.