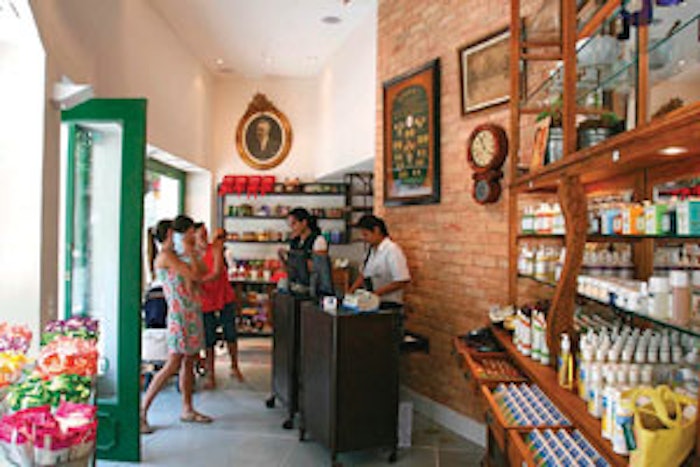 With an expected growth of 11% in 2009, the personal care segment broke an 18-year record in the Top of Mind survey conducted by Datafolha Institute. According to analysts, the upswing can be attributed to improvements in income distribution and ongoing transformations in the Brazilian beauty market.
Deodorants showed one of the highest growth rates. In February 1992, 33% of respondents could not recall a single deodorant brand. In 2009, the index fell to 14%. The category's winner was Rexona (mentioned by 35% of respondents), followed by Axe and Dove, with 10%. All three brands belong to Unilever, which owns 62.9% of the national deodorant market, according to ACNielsen.
Based on the positive outlook, the company has recently launched its Dove Men+Care deodorant—the debut product for Unilever's men's grooming line in Brazil. According to Andrea Rolim, vice president of personal care, Unilever Brasil, the country is the debut for the product line in the Americas—it was also launched in Italy, France, Belgium and the Netherlands in 2009.
"The campaign launch, planned for early 2010, involves media efforts and point of sale promotions, with an investment of $13.5 million," says Rolim.
Unilever also led the Top of Mind survey in the shampoo, soaps and toothpaste categories. Seda (Sunsilk) was noted by 36% of respondents; Lux was noted by 41%; and Colgate was noted by 47% (toothpastes were the most remembered products by Brazilians, with 96% of those surveyed able to identify brands).
Granado Grows 20%; Invests in New Outlets
With more than a century of history in the Brazilian market, Granado Pharmácias reopened its concept store in Rio de Janeiro with new products and a redesigned look. The company's headquarters remain at the address established in 1870.
According to Sissi Freeman, marketing director, Granado Pharmácias, the renovated space features items that chronicle the journey of the company, while the neighboring property houses an exclusive Phebo outlet (a traditional soap brand acquired by Granado in 2004). Investments in retail also include the opening of new stores. Granado's first outlet in São Paulo, which opened in 2008, doubled its revenue in a year of operation. The positive results led to the inauguration of a second boutique in the city, located at the fashion mecca Villa Daslu.
Granado estimates a growth of 20% in sales in 2009, compared to sales of $67 million in 2008. "In the next five years, we intend to have at least one store in each of the Brazil's major [state] capital cities," said Sissi.
Natura Expands Presence in Brazilian Households
Brazilian brand owner Natura, which has postponed its international expansion plans, has maintained positive results in the domestic market. As part of this effort, the company has attracted more women to join its sales force, surpassing one million consultants and enhancing the company's presence in Brazilian households.
According to figures from Latin Panel, Natura increased its penetration in Brazilian homes by 9%, reaching the unprecedented rate of 50.4%. The research included 8.2 million households, representing 81% of the population and 90% of the country's consumption potential.
"We grew in all social classes, but the highest rate was detected among those with low incomes," said Jose Vicente Marino, vice president, Natura. According to him, the plan to allocate 8,000 consultants as recruiters and trainers for new consultants contributed to the increase in the sales force and penetration.
New Brazilian Celebrity Fragrance Launched
Jequiti Cosmeticos, a company owned by Brazilian entrepreneur and TV presenter Silvio Santos, launched its new fragrance Elo in partnership with Brazilian singer Claudia Leitte. Available in masculine and feminine versions, the perfume was created by Givaudan's Thierry Bessard.
During the launch, Jequiti executive director Lasaro do Carmo Jr. announced the brand estimates 2009 growth to be 250% above 2008, when Jequiti, a direct seller, posted revenues of $110 million. The company has more than 100,000 consultants in Brazil.
Wet'n Wild Returns to Brazil
Top Internacional, responsible for marketing French brands such as Ulric de Varens and Jacomo in Brazil, announced that it is Wet'n Wild's new representative. The company is committed to importing and distributing products from the American manufacturer to mass market retailers across the country. Top Internacional intends to prioritize the distribution of U.S. top selling cosmetics, notably color makeup, at affordable prices to the suit the Brazilian market.
Fernanda Bonifacio is a Brazilian journalist who focuses on the beauty industry, and has been published in the U.S. and Europe. During 2002–2008, she represented ABIHPEC and its member companies globally.