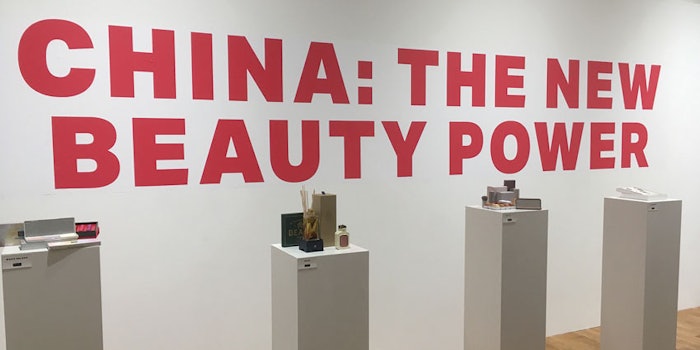 The Chinese market will be worth $62 billion by 2020, according to data presented by Michael Nolte, creative director of Beautystreams, during an in-depth briefing in New York, featuring leading retailers, brands and experts, including Masa Cui, founder of Marie Dalgar; Baoxia Zhuang, director, Mistine China; Jackie Lee, category lead, beauty, Tmall Global, The Americas, Alibaba Group; and Lan Vu, founder and CEO of Beautystreams. Driven by a confident, hyper-connected population, the country is poised to reverse the traditional flow of innovation from West to East through massive upgrades in manufacturing, the service economy and technology.
Leading Domestic Brands & Indies
To understand the current landscape, it's important to know that the top domestic-born brands in the country have legacies dating back to the 19th century, and as recently as 2008. The largest Chinese beauty brands today include Vive and Herborist, which are owned by Jahwa; Chando, Maysu, Botanical Wisdom and Insea, owned by Jala; Han Shu, One Leaf, Sonia and Red Elephant, owned by Chicmax; Pechoin; and Inoherb.
At the same time, indie brands—foreign and domestic—are increasingly popular, similar to the rise seen in the West, driven by rising consumer expectations. Chinese indie brands include:
The expert-backed HomeFacialPro;
Lifestyle retailer The Beast, which sells everything from pajamas to home fragrances and candles, and operates shops that sell international indie brands;
Scent Library, which features fragrances created by Firmenich, which are packaged in books by design firm Centdegres;
Winona, a skin care brand with a clinical positioning designed for sensitive skin;
Pandaw skin care for youthful consumers;
and Perfect Diary, a color cosmetics brand with popularity in mid-sized cities, which tend to generate less income and catch on to trends slightly slower than their larger counterparts.
A J-beauty import for hypoallergenic skin, Coscure, has found popularity in China.
In a parallel development, the "California" concept of a more balanced lifestyle has led to a rise in the use of natural-marketed products, yielding growth for brands such as Origins, La Mer, Biotherm and Kiehl's. This has also boosted eco awareness among consumers, as well as interest in brands that are hypoallergenic and anti-pollution, and safe for sensitive skin.
At the same time, K-beauty brands are providing tough competition for Western brands, while more indie brands from the West flow into the market.
Popular Formats
According to the analysts speaking at the event, top color cosmetics categories in China include lip color, foundations, perfume/fragrances, and eye color cosmetics. In skin care, masks, serums, facial kits and sun protection are among the most popular product types.
Consumer Shopping Habits
According to data presented by Beautystreams, 36% of Chinese women have upgraded to more premium beauty brands in last year, and 58% switched to more expensive product lines within the brands they were already using.
In the color cosmetics segment, the lip category going strong in China's largest cities, including products like Maybelline's SuperStay Matte Ink. Moisturizing lipsticks perform best in the mid-tier cities. Looking forward, eyeshadow is poised for growth.
Younger Consumers
These hyper-connected shoppers express their personal style through exaggerated hairstyles and makeup, said Nolte. Young men in particular are heavily influenced by the K-beauty movement, embracing products like masks and color cosmetics, including "guyliner" and lip tints. At the same time, young Chinese consumers are embracing preventive anti-aging skin care from early age, compared to Western consumers.
Older Consumers
China's 35-plus generation is unsurprisingly focused on skin care, indulgence, masks and multi-step routines with a big focus on the face. These shoppers also have an interest in color cosmetics.
Influencer Impact
In such a mobile-saturated market, influencers play an outsized role in shaping consumer attitudes. For instance, Junping Big Devil, a male influencer, became famous for deconstructing the contents and ingredients found in beauty products. Meanwhile, mass influencers don't have much loyalty to brands as a function of their business model, which reportedly makes smaller influencers more effective for brands, which can develop a closer relationship with the more modestly scaled personalities.
Check out the November 2018 digital edition for the full article.