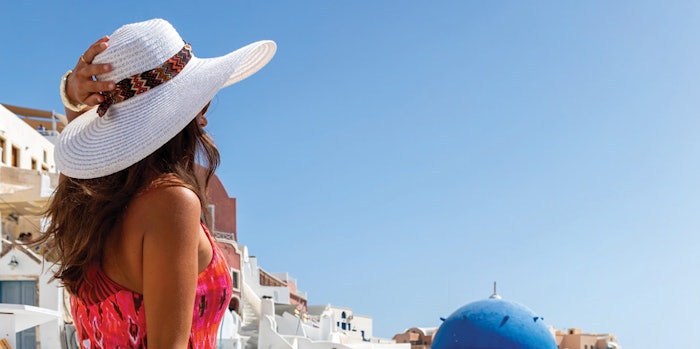 Greece, for all its historic grandeur and the luxury playgrounds of islands like Mykonos and Santorini, has not reflected much grandeur in its economic outlook. Rich history, from the architectural remains of the Acropolis to the beauty rituals passed from mother to daughter, have ensured that the legacy of design and beauty withstand economic headwinds.
High unemployment levels, tax evasion, corruption and poor fiscal policies have battered the economy over the past decade. The resulting austerity measures to repair "The Crisis" of 2007–2008 saw widespread impoverishment, bankruptcy and a long recession (outlasting the four-year duration of the Great Depression in the United States).
A resurgence in the past few years, as new measures to address corruption and excessive public spending sow seeds of promise, has seen the cosmetics industry flourish. Hair care, bath and shower products proved especially popular sellers from 2017 through 2018, largely due to the mass-produced brands sold in supermarkets.
Ingredient Inspiration
Beyond the mass-produced soap and shampoo of generic brands, Greece has been a fertile ground for all-natural, native-ingredient-sourced beauty products that reflect the many centuries of rituals and traditions in beauty, both human and mythological.
Honey and olive oil, common in both Greek food and beauty products, were once used as cleansing and moisturizing agents, while charcoal and olive oil were blended to create eyeliner and eyebrow paint. Beeswax and red iron oxide colored lips while also providing a hydrating effect.
Greek brands such as the internationally beloved Korres join Apivita, Olive Era, Agallis, Frezyderm, Erre Due and YouthLab in championing a modern approach to branding and development while remaining authentic and respectful of the land, stories and values of their homeland.
The following is a guide to the brands you may see commonly in Greek pharmacies, or in specialty beauty stores like Sephora internationally.
The International Cult Favorite: Korres
Founder George Korres started working at the oldest homeopathic pharmacy in Athens in 1989 when he was still a student at the Pharmacy School of Athens.
Korres recalls, "I familiarized myself with natural ingredients as I prepared the more than 3,000 herbal remedies. The pharmacy became a point of reference for homeopathic doctors and patients from all over Greece. Eventually, our customers started asking for herb-based products for dry skin, wrinkles and acne."
This served as the inspiration for Korres, which he launched in 1996.
The founder explains, "Korres is all about Greek natural beauty, powered by science. We work with local farmers, cultivating our selected herbs in the most fertile parts of Greece. We produce our own Greek plant extracts and we design products that we feel take the Greek magic around the world."
For the full article, check out Global Cosmetic Industry's October 2020 digital magazine.