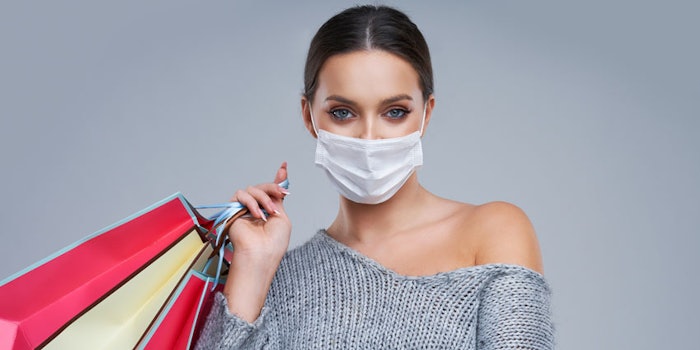 Opportunities for cosmetic marketers post-COVID-19 were presented during a recent IFSCC webinar lecture given by Maite San Miguel, senior sales manager of the Miyoshi Group.
San Miguel is known for her keen eye for trends in cosmetics, food and pharma, moderator Perry Romanowski, of Element 44, Inc., noted, in his welcoming remarks. IFSCC Secretariat Mary Lynn Halland turned over the discussion after a brief introduction to the organization.
Top Trending Brands
"Connectivity kept us afloat during the pandemic," San Miguel observed, "and brands related to connectivity were the most successful." She shared how the pandemic affected the ranking of the most-loved brands.
See related: 4 Beauty Trends to Emerge from Quarantine Like a Boss
Before the pandemic, top-ranked brands (from 1 to 10) were: Amazon, Disney, Apple, Ford, Jeep, Netflix, BMW, Chevrolet, Walmart and Playstation. During the pandemic, that order shifted to: Apple, Amazon, Google, Walmart, YouTube, Toyota, Disney, Netflix, Chevrolet and Playstation.
Apple, in particular, rose to the top to meet the user need for devices. Amazon, Google, Disney and others such as HBO, Hulu, Netflix and ESPN provided content and information on these devices, while AT&T and Verizon provided access to the content. Additional facets included top-performing by consumer "need state." Disney, for example, was at the top before the pandemic for "nostalgia," whereas Campbell's, a familiar and comforting U.S. soup brand, rose in this "need state" during the pandemic.
Services in Demand
San Miguel underlined markets where brands will remain in demand as consumers have adapted to their new day-to-day reality. To start, the "gympocalypse" continues, she noted, and brands supporting at-home fitness such as the Peloton stationary bike and Mirror digital display, both with interactive instruction, will continue to grow. Additional services with heightened demand include those relevant to cyber security, e-commerce, fast food and food delivery, gaming, home improvement, remote work, telemedicine and virtual events.
Booming Industries
In relation, as might be expected, the industries expected to boom after the pandemic include: personal protective equipment (PPE), online meeting platforms, dating apps, cybersecurity, online teaching/e-learning, online fitness, video games, children's toys, entertainment, streaming, books, food/supermarket delivery, online shopping, legal services (sadly, San Miguel noted an increase in divorces due to the pandemic), pharmaceuticals (vaccines), electric cars/scooters, cycling, gardening and "experiences."
'Experiences' related to wellness, relaxation, anti-stress, self-care and at-home care could be the ticket to success.
For cosmetics and personal care, perhaps PPE in the sense of hand sanitizers and barrier repair; and "experiences" related to wellness, relaxation, anti-stress, self-care and at-home hair dyes, nail treatments, facials and masks, etc., could be the ticket to success.
Prevalent Concepts
Concepts San Miguel highlighted that grew during and post-pandemic included: nostalgia, the "human" factor, wellness, "phygital" (physical + digital) experiences, digital everything, luxury, indie, DIY, clean beauty, personal care and esthetics, routines, anxiety and meditation, inclusivity, shopping, transparent labels, maskne, back to work, socioeconomic reality, social distancing, mental health, and Coronials and Quaranteens.
Regarding the latter, San Miguel noted that after the long lockdown, COVID-19-inspired terminology ws inevitable. Covidalliances (hook-ups) and covidivorces, were examples; she reported both were as equally likely to occur. "Also, after the expected late baby boom in late 2020 spilling into early 2021, individuals who will be teenagers in 2033-34 are already being called Quaranteens," she said. Considering that Gen X (post-baby boomers), Gen Y (Millennials) and Gen Z (post-Millennials) labels are already taken, Coronials or Covidials could be the next generation.
Beauty Statistics
As we know, the beauty industry was hit hard during the pandemic. According to San Miguel, "the global beauty market will decline 20-30%." In addition, she noted 17% of women stopped wearing makeup on account of the coronavirus, and 30% of the beauty industry market was closed due to pandemic.
The good news is skin care products, especially for hand care, grew by 606.4%. San Miguel attributed this to treatments to counteract the effects of alcoholic gels and sanitizers. Also, beauty therapy is expected to grow by 20% by 2024 in Australia, and CBD is still hot—48% of milliennials report they would purchase CBD oil for skin care.
Product developers can create concepts to enhance the comfort of face masks with scents, cooling effects and anti-itch/anti-irritation benefits.
See related: The New Normal of Skin Care Makeup Shopping
In addition, 82% of women indicated they believe social media drives trends, San Miguel reported. In relation, US $15 billion will be spent on the global influencer market by 2022. From the industry's perspective, according to San Miguel, the key to this will be guiding the influencers about what they say about products, especially so as to avoid any legal issues by misleading with false product claims. Finally, she reported the global cosmetic market is projected to reach US $438.38 billion by 2026.
Segment Trends in 2021
For skin care, opportunities in 2021 include minimalism (or skinimalism) and celebrity skin care—"all the celebrities have product lines," San Miguel noted. In addition, she underlined sustainable as the new clean and microbiome friendly skin care. "There is a shift from chemical to biology-driven deodorants and skin care," she explained. Other concepts in skin ranged from personalization and de-stressing, to next-gen supplements, blue light protection, hand care of all types and refillable products.
In hair care, San Miguel highlighted concerns over hair loss and the related use of wigs and hair extensions/accessories; the uptick in at-home hair dyeing; multitasking scalp care and affordable care for naturally curly/kinky hair. In color cosmetics, dewy skin tints, bright (neon) eyeliners, embellishments, cleaner mascaras, multichromatic eyeshadows, more accessible lipstick and multitasking products were identified. "You also have to leave room for sanitizers in your makeup bag, now," San Miguel observed.
Current color cosmetics reportedly do not address the undertones of various skin shades.
Related to color cosmetics, inclusive beauty, especially products for ethnic, Black and minority women, is a major theme according to San Miguel, and current color cosmetics reportedly do not address the undertones of these various skin shades. While expanding color offerings in a given product range is a good start, addressing this gap in quality will be crucial.
E-commerce Trends for 2021
San Miguel identified eight beauty e-commerce trends for 2021 as well, including: the aforementioned inclusivity, VR/AR and tech partnerships; subscription services; natural/clean/transparent beauty; big data; influencers; hyper-personalization; and brand partnerships. The most effective marketing by influencers was reportedly through Instagram while third-party reviews were viewed as the most trustworthy. The least effective media included direct mail marketing and company advertisements.
Novel Opportunities
Beyond the ideas described above, San Miguel highlighted additional market opportunities. Retail and brand partnerships were one, especially considering how retail has changed. "With less physical space to experience products, brands pair with big stores," she explained. In relation to this, sampling products has become more difficult due to hygiene concerns. As such, offerings are being made available upon request; services such as AmorePacific's lip factory by Color Tailor provided one example.
Product developers also can create concepts to enhance the comfort of face masks with scents, cooling effects and anti-itch/anti-irritation benefits. This is supported by Mintel data showing that 88% of Japanese consumers reported concerns about the malodor of face masks, and 86% of the same group feeling uncomfortable wearing face masks during summer months.
Sustainable, conscious and clean beauty remains an opportunity as well, especially with a focus on safe and nontoxic ingredients. "We need some standard definitions, however," San Miguel added. She listed several of the "best clean beauty" brands, which included: Beautycounter, Versed, Codex, Saie, LOLI, Tata Harper, Anita Grant, Kosas, True Botanicals, ILIA, Klur, W3ll People and RMS Beauty. In relation, facets driving consumer purchases include "bigger picture" initiatives such as fighting domestic abuse, homelessness and cancer; or appealing to the larger values of vegan and cruelty-free. Crucial to this trend is transparency on the product label.
See related: Whole Foods 5 Clean Beauty Trends for 2021
"The consumer wants not just the INCI name, but the full background of where it came from," San Miguel said. "We need to listen to the consumer, what they want, what they need and give them [products for] immunity and health; … climate change commitments; … sun protection standardization; … aging management (not antiaging)…" said San Miguel.
During the Q&A session, Romanowski asked San Miguel whether being fully transparent on a product label was good or bad for competition, and whether the industry could provide good transparency. "We need to have an open mind to share the information," said San Miguel.
Romanowski then rounded out the discussion, asking: "So there is still opportunity for the cosmetic industry?" San Miguel replied, "Yes. Every six months we've needed to get products on the shelf, so we have always been finding opportunities."