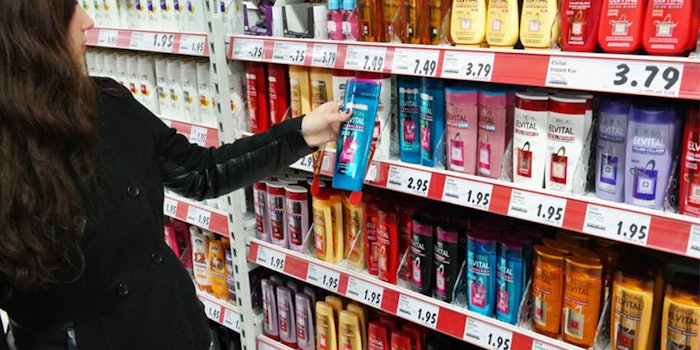 Global brands are overwhelmingly preferred around the world, in part due to consumers' focus on brand origin.
A brand's origin is crucial for 33% of Asia-Pacific consumers and 32% of Africa/Middle East consumers, according to the new Nielsen Global Brand-Origin Survey. These factors are less crucial in markets such as Europe, North America and Latin America.
"Nearly 75% of global respondents, on average, say a brand's country of origin is as important as or more important than nine other purchasing drivers, including selection/choice, price, function and quality," Nielsen noted.
"Global brands are able to leverage their scale and expertise, research and development capabilities, and strong brand equity to provide high-quality and innovative personal-care products to local markets around the world."
Whether selecting a local or global brand, consumers worldwide focused on key factors such as price/value, positive brand experience, safe ingredients and processing, benefits, and brand sales and promotion. Meanwhile, local brands have the unique advantage of inspiring purchases by consumers out of a sense of national pride. This is less of an advantage in Europe and North America than elsewhere.
"In a crowded retail environment, brand origin can be an important differentiator between brands, but sentiment varies by category and by country, and leveraging a powerful brand presence needs to be managed carefully regardless of whether it is global or local," said Patrick Dodd, group president, Nielsen Growth Markets. "Ultimately, the brands that deliver on a strong value proposition and connect personally to consumers' needs will have the advantage in any given market."
Global brands dominate consumer-preference in categories such as razors, shampoo and conditioner, cosmetics and deodorant. Global brands are also generally preferred in the categories of hand and body soap and toothpaste. These sentiments are notably less pronounced in Europe.
"Global brands are able to leverage their scale and expertise, research and development capabilities, and strong brand equity to provide high-quality and innovative personal-care products to local markets around the world," said Dodd. "In addition, in some markets, the number of local brands is limited for nonedible categories, so consumers naturally gravitate to offerings from global brands because they are widely available."