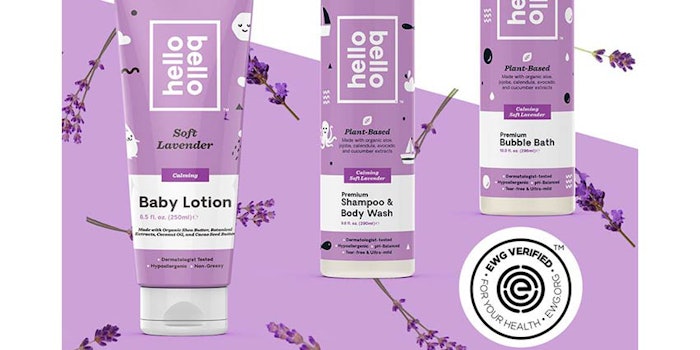 Kristen Bell and Dax Shepard's baby brand Hello Bello has earned the EWG Verified seal of safety for its lavender line. The brand aims toward getting the entire body care line verified this year.
The Environmental Working Group (EWG) rigorously verifies a multitude of products through strict ingredient standards, good manufacturing practices and robust transparency. This verification marks the start of Hello Bello's 2020 journey towards a more sustainable future.
Consumers can expect to see more post-consumer recycled plastic in the brand's packaging, all paper packaging FSC-certified, all palm-derived ingredients RSPO-certified and more. By November 2020, the company also plans to reduce carbon emissions related to packaging design by 10% and 25% by November 2025.
Hello Bello's lavender line is comprised of three products, each retailed at $6.98:
Extra Gentle Shampoo & Body Wash: a two-in-one formula that soothes with organic aloe vera, calendula, avocado and cucumber extracts, while moisturizing with organic jojoba and sunflower seed oils.
Tear-Free and Ultra-Mild Bubble Bath + Premium: made with organic calendula, avocado and cucumber extracts, the bubble bath's bubbles are reportedly built to last.
Plant-Based Lotion: a soothing mix of organic jojoba seed oil, shea butter and mother nature's best botanical extracts. The lotion is naturally non-greasy, leaving even sensitive skin feeling soft and soothed.