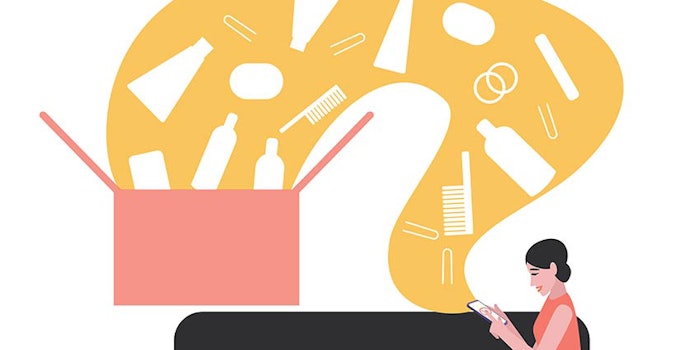 First-quarter U.S. prestige beauty sales totaled $3.6 billion, a drop of 14% year-over-year, per new NPD data. The sales trends unveiled a consumer mindset focused on comfort and DIY.
Further reading: 7 coronavirus impacts for beauty.
1. Online sales booming
Online sales jumped 24% in Q1 2020 and, as of March, comprised 48% of total sales. Online hair care sales leaped 41% year-over-year for the quarter, followed by skin care (27% increase), fragrance (19% gain) and makeup (up 18%).
2. Hair care rules
Prestige hair care is having a moment. The category grew 13% year-over-year in Q1 2020, with sales totaling $199.1 million. The sector comprised 6% of all Q1 sales.
Strong-performing sectors included hair color (up 82%, year-over-year), hair masks (up 32%), and shampoo and conditioner (up 16%, despite some reports that claim consumers are washing hair less often).
Hair styling was the only declining category.
3. Nails ascendant
Makeup had the smallest (though still significant) portion of sales gains online for the period. Overall sales totaled $1.4 billion in Q1 2020, a year-over-year drop of 22%.
That said, nail care was up 9%, while sales of top/base coat nail polish grew 7%.
4. Self-care driving skin care
Skin care Q1 2020 sales dropped 8%, totaling $1.3 billion. Top growth areas included hand soap (up 73%, year-over-year), body serums (up 32%), body oil (a gain of 10%) and deodorant (up 3%).
5. Fragrance driven by home scents
Fragrance sales dropped 13% in Q1 2020 (year-over-year), totaling $655.3 million. However, growth was seen in home fragrance categories such as candles (up 8%, year-over-year), diffusers (up 5%), home scents (up 4%) and ancillary gift sets (up 4%).
"Despite a strong start to the year across most categories, the prestige beauty industry was not immune to the steep March losses seen across retail," said Larissa Jensen, beauty industry adviser, The NPD Group. "Self-care and at-home beauty treatments are where the growth is for the beauty market at this moment, as consumers have no choice but to take beauty services into their own hands. In March, consumers began putting an even greater focus on their skin and hair care, as applying makeup and wearing fragrance have lost importance during quarantine."