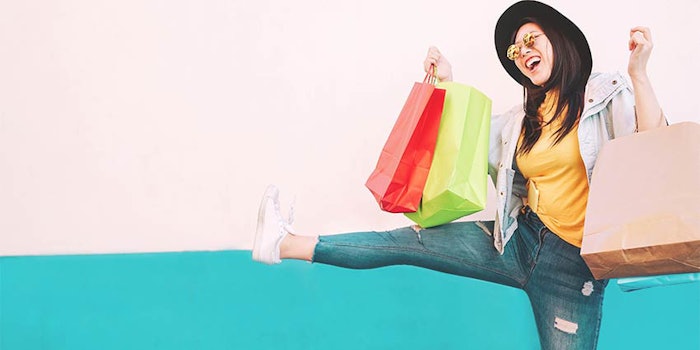 Perksy has released a set of statistics focused on the shopping habits of Gen Z, as well as how their habits compare to those of millennial consumers. Some of the topics the report explores how the two generations get inspiration for gifts, what they're gifting and being gifted, how much they're spending on the holidays and how/where they purchase gifts.
Related: What's Next in Beauty Retail
Both generations (48%) are influenced by friends and family when it comes to holiday shopping, but 38% of Gen Z shoppers are more likely to be influenced by friends than millennials. Additionally, 18% of both generations are influenced by online ads.
Among the two generations, social media stars having more influencer power than traditional celebrities and they are six times more likely to get gift inspiration from influencers than celebrities. Gen Z is also 32% more likely to get gift inspiration from YouTube and 37% less likely to get inspiration from Facebook than millennials.
Young consumers are hybrid shoppers; 78% of Gen Z and millennials will do shopping in-stores and online. Twenty-two percent will buy gifts through Facebook, Instagram or both, but they are three times as likely to purchase from Instagram than Facebook. Canadian shoppers are more likely to buy gifts in-store than their American counterparts, while millennials in Canada are more likely to shop online than Gen Z.
Millennials are likely to spend more on their holiday shopping, with 54% planning to spend more than $200, while 63% of Gen Z plan to spend between $50 and $200.
What they plan to give:
Clothing: 67%
Gift cards/certificates: 54%
Beauty products: 46%
Jewelry: 41%
Home decor: 37%
What they plan to get:
Cash: 70%
Clothing: 62%
Gift cards: 60%
Technology: 49%
Experiential (travel, tickets): 39%
More on Gen Z:
32% say moisturizer is their favorite skincare product
82% get their fashion advice from social media
TikTok was identified as the fastest growing social media platform in terms of popularity, along with Instagram in second place and Snapchat third by both Gen Z and millennials
35% take vitamins daily
54% struggle with "dryness" daily
69% purchase their makeup products at their drugstore