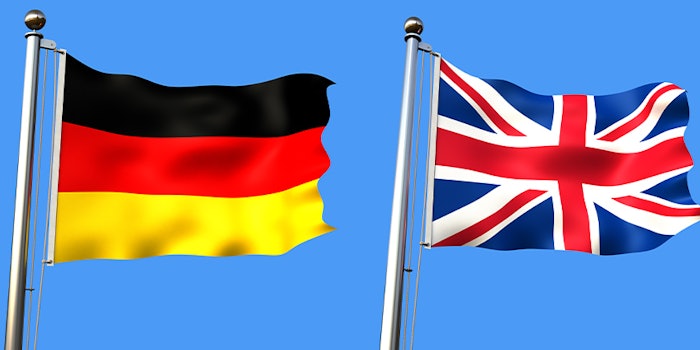 Prestige beauty sales in the United Kingdom have experienced an increase of 38% (totaling more than £491 million) during the period of January-October 2020, compared to the same period in 2019, per The NPD Group. Meanwhile, Q3 2020 sales in Germany declined of 14%.
Related: Holiday Fragrance in the Face of COVID-19: NPD
Within the top 10 German cities, prestige beauty sales for Q3 declined 23%. This contrasts with the rest of the country, which declined just 11% in the same period. This is notable because Berlin, Hamburg and Munich comprise almost two-thirds of the value sales.
E-commerce accounted for 41% of the United Kingdom's total prestige beauty sales during the given period, compared to 21% of total beauty sales in the same period in 2019. This increase was driven by lockdown and the closure of bricks and mortar stores in the early part of 2020.
A month-to-month breakdown shows that in the United Kingdom throughout April 2020, when lockdown began, e-commerce accounted for 94% of total prestige beauty sales. In August 2020, online sales accounted for 37% of the total market. In October 2020, e-commerce increased to 40% of the prestige beauty market as the the United Kingdom adopted a regional lockdown approach.
U.K. sales of prestige skin care online reported the largest category growth, rising 54% in the given period compared to the same period in 2019. Sales of face creams increased 67%, sales of face cleansers increased 66% and sales of face serums increased 32%. Sets and kits have also been a key contributor to skin care's growth online, increasing 57% compared to the same period in 2019.
Dusseldorf, Germany, which has the highest proportion of skin care products within its category sales mix, recorded almost one-third of value sales in skin care. Despite a similar population to that of Essen, absolute skin care value sales in Dusseldorf were almost four times higher.
For Germany, fragrance was the most popular category in each of the cities but still recorded a sales decline of 17%. 
In the makeup sector, the top 10 largest cities in Germany saw sales decline by 35%, while the rest of the market experienced declines of 24% or lower.
Emma Fishwick, account manager, NPD U.K. Beauty, said, "Prestige beauty brands and online retailers were quick to respond to lockdown with many providing online incentives to purchase such as offering free delivery, gifts with purchase, price promotions, online tutorials and virtual 'try on services' to support shade matching from home."
Fishwick continued, "The prestige beauty market was quick to respond to the change in consumer behaviour during lockdown. Many brands switched their marketing efforts online with innovations including virtual consultations, classes and facials at home led by a skin care professional. Skin care sets and kits proved very popular because they offer value for money and encourage experimentation via trial size products. The growth in online sales is set to continue as retailers find new ways to enhance their high street store offering with an omni channel presence online."

Samantha Grand, Germany beauty executive director at The NPD Group said, "After the brick-and-mortar lockdown in spring this year, we saw that this channel is critical for the industry's recovery. In light of the uncertainty over the risk for additional regional restrictions in the coming months due to COVID-19, reassessing a tailored strategy per city can be an even more important key factor to success."