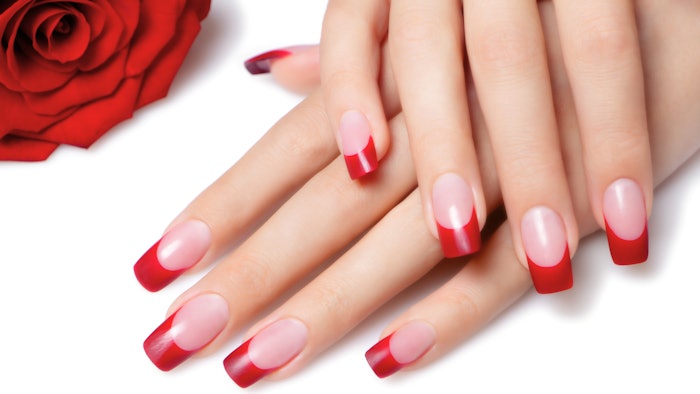 A trend report from Spate on U.S. consumer search trends shows increased attention to barrier repair, high interest in french tip nails with a new twist and ginger hair coloring. 
More from Spate: US Consumer Trends in Body Makeup, Hairstyling and Ingredients
There are 8.5K average monthly searches in the United States for barrier repair, a medium volume compared to other face treatment product searches and a growth of 67.9% in searches since last year. There is low competition and 4 market leaders: Dermalogica, Rovectin, First Aid Beauty and Zerafite. Related searches include eczema, rashes, rosacea, dermatitis and sores.
Per Spate, searches for multiple product formats like creams, serums, oils, concentrates, cleansers and masks indicate that consumers are looking for different products to support these concerns. Consumers are also searching directly for ingredients like aloe vera, probiotics, jojoba oil, ceramide, coconut oil, and vitamin E to help aid with their skin barrier.
There are 870.8K average monthly searches in the United States for French tip nails, a very high volume relative to other nail designs and a growth of 131.7% in searches since last year. There is medium competition and 3 market leaders: Kiss, Color Street and SNS.
The report indicates that consumers are searching for French tip nails in different lengths (short, medium or long) and with different nail polish product formats (acrylic, dip and gel). Searches for color and glitter alongside French tip nails suggest that consumers want to bring color into the classic style by swapping out the classic white tip for a pastel color (346.3% increase YoY), silver (330.4% increase YoY) or chrome (287.7% increase YOY).
There are 132.4K average monthly searches in the United States for ginger hair, a growth of 30% since last year with three market leaders: Overtone, Adore Hair Color and Creme of Nature. Related searches include terms like color, dye, brown, blonde, red, natural hair, copper and highlight.
Searches for ginger hair have continued to grow steadily since 2019 but had a spike in search interest in 2021. Some of the top rising hair colors identified in the report are paprika (36.2% increase YoY), red and blonde (21.0% increase YoY) and red highlights (19.7% increase YoY).
Related: Spate: US Consumer Trends in Hair Spray, Sunscreen and Wellness