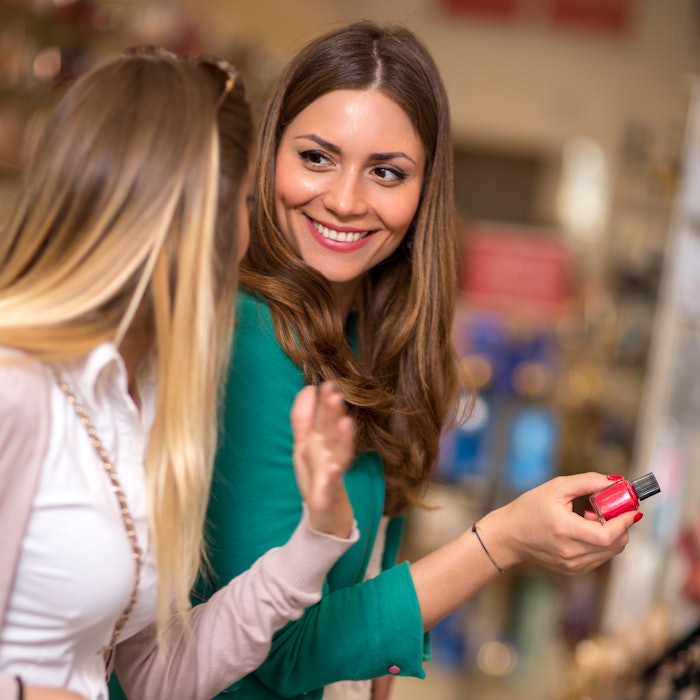 U.S. prestige beauty sales revenue for 2022 grew by 15% year-over-year, totaling $27.1 billion, according to new NPD data. Beauty was the only sector tracked by the firm to post positive year-over-year unit sales.
Combined, the mass and prestige beauty product market revenue growth for 2022 was 11%. Yet only prestige unit demand remained strong.
In prestige beauty, year-over-year brick-and-mortar retail share grew, while online sales share increased in the mass market.
Makeup 2022
U.S. prestige makeup sales increased 18% in 2022, comprising the most sales revenue gains of all the prestige beauty categories.
The fastest growing sector was lip products, with sales surpassing pre-pandemic 2019 levels by double-digits. Lip gloss outperformed lipstick, compared to both 2021 and 2019. 
Report: 4 Trends Driving Makeup's Pandemic Comeback
Skin Care 2022
U.S. prestige skin care sales grew 12% in 2022. Body products grew at more than three-times the rate of facial products. 
Deep dive: Decoding the Bath & Body Care Boom
Fragrance 2022
U.S. prestige fragrance sales increased 11% in 2022, driven by higher fragrance concentrations such as eau de parfums and parfums, and higher-end artisanal fragrance juices. (In 2021, fragrance was the sector's top grower.)
Consumer data: Decoding the Fragrance Boom
Hair Care 2022
U.S. prestige hair product sales grew 22% in 2022, driven by masks and targeted treatments.
Mass hair care, meanwhile, was among one of the sector's top decliners, per NPD.
Report: 7 Keys to the Hair Wellness Boom
"In more ways than one, the prestige beauty industry had an epic year," said Larissa Jensen, beauty industry adviser at NPD. "Regardless of whether consumer confidence was up or down, growth in the prestige beauty market remained strong. The factors supporting this phenomenon—including increased spending from higher income consumers, the redefinition of wellness emphasizing mental health, and an increase in socialization—will continue to fuel positive performance this year."
She added, "Looking at the industry holistically, inclusive of the prestige and mass markets, the future outlook for overall beauty is a positive one. In an industry steeped in emotion, consumers have demonstrated they are willing to continue to spend on beauty products. Beauty brings joy, which is a universal aspiration and will drive our industry's resiliency in 2023."