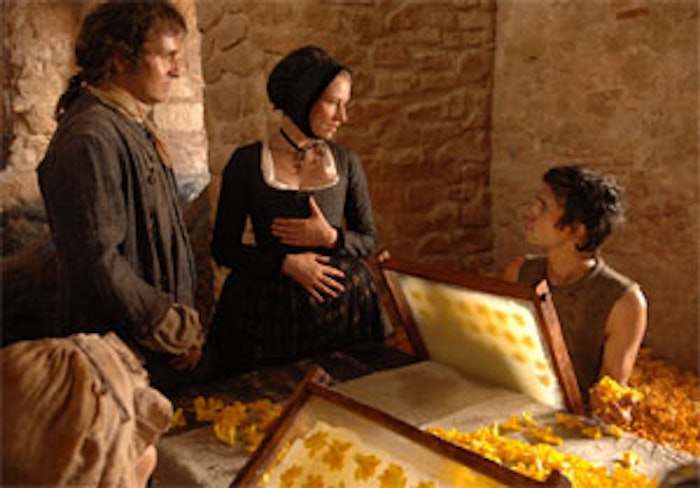 On September 19, Vera Strübi, worldwide president,
Thierry Mugler Parfums
, welcomed editors to the French Embassy in New York City to experience an "olfactive voyage."
The occasion was the imminent launch of an olfactive interpretation of the soon to be released film "Perfume," based on the novel by Patrick Süskind. The book "Perfume: The Story of a Murderer," which was published in 1985 and became an international bestseller, chronicles the life of Jean-Baptiste Grenouille, whose quest to capture the elusive aromas of young women as an 18th-century perfumer takes a murderous turn.
Theirry Mugler conceived of a complementary project that transforms the perfumes and scenarios of the film into actual fragrances. There are 14 tailor-made compositions that transcend the traditional notions of "good or bad" smells into a range that encompasses the disorienting, divine, sensual and chilling aspects of the film. The fragrances for Perfume were developed in partnership with Pierre Aulas, olfactive expert, Thierry Mugler Parfums, and International Flavors & Fragrances perfumers Christophe Laudamiel and Christoph Hornetz.
The scents are Baby, Paris 1738, Atelier Grimal, Virgin No. 1, Boutique Baldini, Amor & Psyche, Nuit Napolitaine, Ermite, Salon Rouge, Human Existence, Absolu Jasmin, Sea, Noblesse and Orgie. Each scent is contained in a limited release collection coffret, which includes the 14 compositions plus Aura, a fragrance enhancer that complements the existing fragrances with its own dimension. The coffret now is available exclusively at www.perfume.thierrymugler.com, coinciding with the December release of the film by DreamWorks/Constantin.