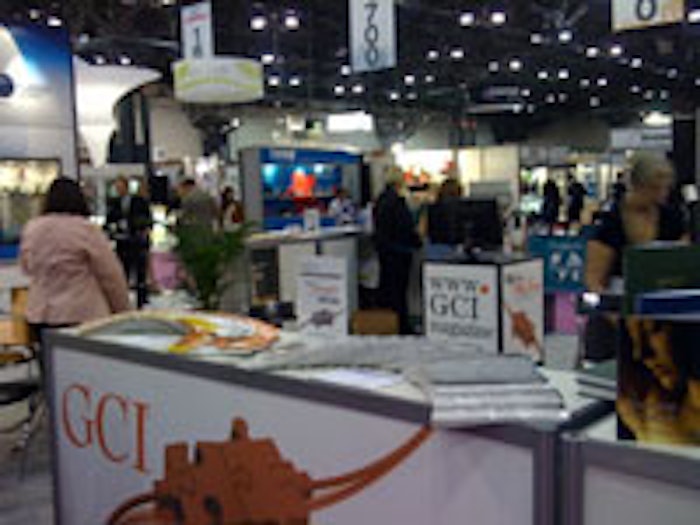 Update Sept. 12, 10:30am EST
After a welcoming speech by Rochelle Bloom, president of The Fragrance Foundation, regarding "What is Right About the Fragrance Industry" on Wednesday, September 10, at HBA in New York City, GCI magazine's group editor in chief, Karen Newman, announced the 2008 Fragrance Business award winners.
Update Sept. 11, 1pm EST
This morning, Rick Ruffolo, senior vice president, marketing and innovation, Yankee Candle Company, kicked off the final day of GCI magazine and HBA Global Expo's second annual Fragrance Business Conference. His presentation, "Scentmosphere: Transforming Your Environment through Fragrance" touched upon similar themes that would be further discussed later in the day, regarding the importance of scent branding.
Having worked in the flavors and fragrance industry for the last 20 years, Ruffolo has led teams at Bath & Body Works, Procter & Gamble and SC Johnson (where he marketed the popular Glade candle brand). In 2005, he joined Yankee Candle and has since worked toward exploring and fulfilling four key areas of olfactive sensory perception. According to Ruffolo, the sense of smell helps with the preservation of the species, the sense of taste, memory and lastly, with emotion, mood and well-being. "Every person has a unique olfactive scent," Ruffolo said. "No two people smell the same way."
With that said, Ruffolo discussed each key topic specifically, addressing pheromones and the insight noses give us about the environment. "Another factoid I've learned," he said, "is that on average, a woman's nose has a keener sense of smell than a man's." So, he continued, "authenticity is key to pleasing discriminating consumers." Brands must combine color, texture, product names and marketing to an appropriate smell.
Next, Ruffolo discussed the scientific research behind using fragrance to possibly treat amnesia, coma and Alzheimer's patients. "Research shows memory and the sense of smell are linked in the brain," he said. He suggested brands link specific fragrances with special events in people's lives as well, such as a summer holiday with Sun and Sand (one of Yankee Candle's new fragranced product lines), or Midnight Jasmine with a wedding.
Scentmosphere, Yankee Candle's trademarked term for the phenomenon of using scent to create a mood, "is the sweet spot for the industry," according to Ruffolo. This theme was later uncovered more in depth in a speech by Sue Phillips, president of Scenterprises Ltd. With so many beauty brands relying on emotion for a lasting brand image, Ruffolo also suggested the use of fragrance to evoke such connection, whether in a product's brand marketing, packaging strategy or retail environment. Yankee Candle, for instance, is creating new candle designs, delivery systems and decorative home fragrances (such as reed diffusers) to establish such future connections with younger customers.
Update Sept. 11, 12:20pm EST
Alcan Packaging Beauty, a division of Alcan Packaging, introduced several new cosmetic packaging innovations during HBA in New York City, September 9-11, 2008, reflecting the importance of convenience in regards to the applicators accompanying makeup products. Italian and French-born creative director Michel Limongi and his team welcomed the press for an exclusive glimpse into the Alcan's new launches just before lunch this morning.
Limongi, who began his career as a makeup artist in his mother's beauty salon at age 12, still works closely today with end users of cosmetic products, as well as big beauty brands and makeup artists, to determine solutions to cosmetic packaging issues. Without affecting cosmetic formulas themselves, he focuses on the customer's experience when applying cosmetics and examines the tools they use—as well as their daily regimens—during workshops held around the world, which foster open discussions about real women's needs when it comes to beauty.
During these creative meetings, Limongi gathers feedback about brands from consumers and then presents solutions to the Alcan innovations lab in Paris, France. Once the center provides him with the blueprint for his ideas, he speaks with beauty brands first-hand about how to implement such convenient and brand-specific tools for future finished product launches.
Limongi's discussions with international women of various ages have spurred new packaging launches from Alcan this year, including Sliding Brush, 90 Degrees Compact, Cream Dispenser, Banana Maker, Bubble Stick and Notch 2. Specifically, brainstorming sessions about bronzer and blush applications gave Limongi the idea to create Sliding Brush, a large, fluffy high-grade goat's hair brush in a plastic bell-shaped holder that can be interchanged with other hair types (even synthetic), which attaches to a powder palette. The reusable, refillable invention can be customized for brands by color, shape and usage, with branded, glittery charms or ribbons attached to the luxury item. There is even a mirror on the back.
Other 2008 HBA packaging launches by Alcan include the comfortable 90 Degrees Compact case that resembles a cell phone for easy grasp while applying makeup in the subway, for instance, which also features a panoramic, horizontal, curved mirror attached for working on the eyes, as well as drop-free applicators. "It's all about elegance," Limongi said. Of the brands who have already signed onto the technology, Guerlain has shown interest in a travel kit case version. Also, with eye shadows and brushes included, Alcan offers 90 Degrees Compact via turnkey service for brands interested in putting their name on the product. Customization, however, is also available.
Next, Limongi introduced Cream Dispenser, a roll-on alternative for greasy sunscreen lotion tubes and other creams. In addition, the end user can benefit from Banana Maker, a new spherical eye shadow brush that, when used above the eyelid crease while the eye is still open, can create a lift effect, according to Limongi. "We want to make their lives easier," he added. Thereafter, Limongi presented the launch of Bubble Stick, also highlighted in this year's Mintel innovations pavilion at HBA. The new packaging option to the alternative lipstick module allows for the attachment of a lipstick case's bottom and lid with beveled or flat edges, various colors and branded charms, for a teen-aged appeal.
Lastly, Limongi introduced Notch 2, signature mascara brushes in varying orders and styles that create different rhythms in the eyelashes when used with mascara. Notch 2 differentiates brands from classic mascara brush shapes with specific purposes in mind, including curls, volume and length.
Update Sept. 11, 10:15am EST
In an effort to symbolize the concept of scent branding, Sue Phillips, president of Scenterprises Ltd., welcomed one of her vendors, Air Aroma, to literally scent the 2008 Fragrance Business conference room at HBA in New York City on Thursday, September 11. After a moment of silence for the remembrance of the tragedies of Sept. 11, 2001, Phillips acknowledged using one of Air Aroma's portable room scenters, which began releasing fragrant puffs of vanilla and grapefruit throughout the room during her presentation, "Scent Branding: What Your Space Says About Your Brand."
The former Elizabeth Arden, Tiffany & Company and Lancôme employee, who now runs her own U.S. fragrance consultancy, discussed the growing interest by the hospitality and retail industries in scent branding and odor neutralization. "Advertising Age named scent marketing as one of the top 10 trends to watch for in 2007," Phillips said.
Outside luxury hotels, restaurants and casinos, it seems, according to Phillips, European movie theaters have also posed interest in the scent branding concept, having recently introduced audiences to "The Scent of Summer" during Nivea ads before feature films. With 45% of our perceptions stemming from the sense of smell—the second most important sense after sight (at 58%)—Phillips said signature brand scents greatly increase brand recognition among consumers. For instance, the Langham UK international hotels have a signature scent of ginger flower, while Jimmy Choo stores offer a combination of spicy cardamom and ivy.
However, Phillips noted, when a perfumer or fragrance company is creating a signature scent for a property, consistency is the key, as is answering the following questions: What materials will be used to build the interior and exterior design of the property? What is its geographic location? What type of architecture is the property? And what about its style and color schemes?
Phillips believes the answers to these questions will help keep a property's brand consistent among numerous locations for the best brand recognition.
Update Sept. 11, 10am EST
Last night, GCI magazine hosted a cocktail reception for its Fragrance Business Conference attendees, featuring wine and cheese appetizers, along with after-hours networking opportunities. The well-attended party featured fragrance industry staples and conference speakers such as Karen Dubin and Karen Adams of Sniffapalooza and Sue Phillips of Scenterprises, Ltd., as well as members of the Allured Business Media team, GCI magazine's editorial board and GCI magazine's editorial staff.
Update Sept. 10, 4:30pm EST
Along with packaging innovations, the 2008 HBA conference included a nutricosmetics launch by Nestlé, a new beauty drink/ dietary supplement, called Glowelle. Marketed to improve the skin's appearance by providing nourishing antioxidants from botanical extracts, the beverage's proprietary once-a-day formula aims to create more radiant skin. Specifically, Glowelle includes extracts of green tea, pomegranate and grape seed, as well as vitamin C, lycopene and beta carotene. Launched this month throughout the U.S.—exclusively at Neiman Marcus and next Monday, September 15, to Bergdorf Goodman department stores—Glowelle is available in ready-to-drink glass bottles, as well as in seven or 30-day powder packages that can be stashed in purses or briefcases before being mixed with 16 oz of water. So far, Glowelle is available in two flavors—raspberry jasmine and pomegranate lychee.
Update Sept. 10, 4pm EST
In anticipation of the future of beauty, French style and innovation consulting agency, PeclersParis, a member of the Fitch Global Studio (a WPP company), presented its prediction of Beauty Influences & Trends 2010, this morning during HBA. Dominique Assenat, beauty, luxury and accessories director, believes brands should prepare themselves for at least five breakthrough ideas in fashion, color cosmetics and packaging, to stay ahead of competition in the next two years. First, she presented her concept of a "Fab Lab," which involves utilizing experimental aesthetics and mixed materials for a seductive and ecologically-friendly retail and brand environment. Second, "Fancy Tech" relies on a combination of fanciful, unusual and futuristic styles—"new expressions of romanticism." Third, "Arctic Attraction" reflects a consumer fascination with white and off-white colors, rustic yet fragile styles and materials that can be either synthetic or natural. "Power Full," Assenat's fourth predicted future beauty trend, balances humanity and technology. "Extreme structure" and "highly efficient design" reign here. Lastly, she discussed "Fun Therapy," the use of bold, bright and flashy graphics and colors, "transforming the everyday with humor and pleasure."
Update Sept. 10, 2:30pm EST
In 2007, representatives of Telles, a joint venture between Metabolix and Archer Daniels Midland Company (ADM)—a large corn manufacturer—attended HBA in New York City to "put feelers out" regarding the beauty industry's interest in bioplastics for cosmetic use. Kristin Taylor, business development manager, Telles, says the feedback she received was encouraging. It seems, she says, that big beauty brands were searching for ways to show customers their environmentally resourceful side—pursuing naturally-based packaging for personal care and cosmetics' line extensions. The result came this year when Telles launched Mirel, a line of biobased, bioplastics made from renewable corn sugar. "This is an ideal material for compact cases, lipstick cases, mascara containers and lip balm tubes," says Taylor. "It replaces the need for petroleum-based plastic packaging materials."
Mirel mimics contemporary plastic in its look and feel—it has high gloss, a durable shell and can be reproduced in many shapes and colors—but it also has the ability to biodegrade in microbial environments like in soil, in home compost or in marine environments. The technology is even used in Target gift cards, and many molded brush handles, jars and caps, among other industries. However, Taylor says, Mirel's usage possibilities in the cosmetics industry are just beginning. "The customer sees their cosmetics as an extension of themselves, so environmentally responsible cosmetic packaging increases a product's appeal," she says. By the second quarter of 2009, Taylor adds, Telles will open a fully functional, commercial plant for its biobased, bioplastics in Clinton, Iowa.
Update Sept. 10, 1pm EST
GCI magazine's assistant editor, Leslie Benson, met with representatives of Dow Corning Corporation and Elevance Renewable Sciences, Inc., during HBA in New York City to discuss their new partership. The businesses are launching a natural soy wax and soy wax blend using Nobel Prize-winning technology—part of their first generation of new, naturally-based products.
Update Sept. 10, 10:30am EST
For details on Camille McDonald, president, brand development, Bath & Body Works' 2008 Fragrance Business keynote speech, see "Creating Customer-Centric Fragrance Market Epiphanies."
Update Sept. 10, 8:50am EST
Last night at the HBA Industry Awards Dinner, Bobbie Thomas, NBC Today Show's style editor, served as master of ceremonies, announcing this year's International Package Design Award (IPDA) winners. Starting off the show, Cosmetics & Toiletries magazine's senior editor, Rachel Chapman, welcomed to the stage the 2008 International Technology Award winners. Symrise GmbH and Cutech Srl won the Best New Technology award for their collaborative Pig Skin Organ Culture Model, alleviating the need for animal testing. Meanwhile, Sederma received the accolade for Best New Technology Launch thanks to its Essenskin campaign, a cosmetic active ingredient with antiaging benefits.
The 2008 IPDA winners followed in the ceremony, which included Soap Set (in book box) by Skinnyskinny, recognized for best green packaging. International Cosmetics News (ICN) and HBA Global Expo awarded Korres with The Recognizing Creativity Award, while L'Oreal Skin Genesis by L'Oreal, submitted by Rexam, won best mass skin care. The prestige skin care winner, Artistry Creme L/X by Access Business Group preceeded a heartfelt thank you speech by the packaging executive of the year, David Prague, vice president of CPD Packing, L'Oreal USA.
The additional 2008 IPDA winners were as follows: Infallible Lip Color by L'Oreal USA, submitted by Topline Products Company, Inc., for mass cosmetics; Halo Hydrating Perfecting Powder by Smashbox for prestige cosmetics; Robert C. Pierce, vice president, global R&D, Colgate Palmolive, for product development executive of the year; Right Guard RGX Body Spray by The Dial Company, submitted by Wallace Church, for mass fragrance; Private Collection Tuberose Gardenia parfum by The Estee Lauder Companies, for prestige fragrance; Olay Regenerist Micro-Sculpting Cream for best new product R&D technical team; Lipophenol Vegetal 14 Day Body Refiner by Yves Rocher North America Inc., for mass personal care; Gillette & The Art of Shaving Fusion Chrome Collection by The Art of Shaving, submitted by Burgopak LLC, for prestige personal care; and finally, Catherine Walsh, senior vice president, American fragrances, Coty Prestige, for marketing executive of the year.
Walsh rounded out the HBA Awards Dinner with a reference to the movie Forrest Gump. "'Life is like a box of chocolates. You never know what you're gonna get' perfectly describes my life at Coty," Walsh said. "After eight years at Coty, I'm not sure what I'm going to get everyday. We either start fragrances from scratch or acquire fragrances.... It's very hard to get bored."
Update Sept. 9, 1:45pm EST

C2D Inc., a Newport Beach, California-based manufacturing company, introduced three innovative color cosmetic applicators at HBA in the Mintel pavilion, focusing on retractable, pen-like qualities. Rocker, a patent-pending nail polish applicator, enables the user to rock the pen back to wet the brush with nail polish, while rocking it forward will enable easy, no-drip application. The product fills with standard equipment. In addition, two retractable cosmetic pen devices, Wink and Vault (for lip balm and lip gloss, respectively), feature one hand operation capabilities for delivery systems that open with the push of a button. 
Update Sept. 9, 1:30pm EST
Coughlan Products Corp., the formulator and custom manufacturer, announced it has received status as a USDA Certified Organic personal care product company, adding to its natural product lineup. "Working with leading suppliers of organic ingredients, we have screened numerous waxes, emollients, essential oils, botanicals and other ingredients to compile a pallet of the highest quality raw materials," says John Brahms, director of R&D, Coughlan. Meeting USDA standards allows the company to prove on-site certification of ingredients for customers.
Update Sept. 9, 1:20pm EST
Aiming to solve the challenge of dispensing viscous personal care products without aerosol spray technology or hand gel, Rexam Dispensing Systems launched the new Turbo Insert application at HBA. Adept for dispensing sunscreen lotions, hair gels and various emulsions, the technology allows for a wide spray pattern through a flexible pump system. Two years of R&D went into production of the product, which opens vast dispensing possibilities to the makers of gels, oils and lotions.
Rexam also announced at HBA the winner of its 4th Annual Formulation Challenge, an entrepreneurial contest for new uses of Rexam's air-pressurized foamers. Ande (All Natural, Diverse and Eco-Friendly) Cosmetics won the 2008 challenge for its Cool It! burn solve, packed with nutritional ingredients.
Update Sept. 9, 11:40am EST
In the Presentation Theater, Twincraft provided an overview and insight on advances in delivering actives through bar soaps. The challenges have alway been how to deliver effetive amounts of actives in a product that is rinsed away.
The company reports strides in time release delivery, and positive results demonstrated in studies on delivering salicylic acid and peptides. Bars with both actives are on the market, and range from mass products targeted to teenage boys to luxury bars in the $40 price range.
Further, the company reports that SPF delivery remains one of the bigger challenges, with deliverable SPF numbers not high enough to yet satisfy current market demands.
Update Sept. 9, 9:32am EST
The 16th HBA Annual Trade Show and Educational Conference World kicked off September 9th with a key note from skin care expert and dermatologist Nicholas Perricone, providing strategies and insight on the relation of antiaging to inflammation.
This year's show boasts 742 international industry suppliers and educational partners presenting their latest products, innovations and expertise. Mintel, a global market research company, will host "Innovating Trends;" a daily sampling session allowing attendees to experience the growing nutricosmetic trend and taste, touch and feel beauty products from around the world—including candy fortified with collagen, chocolate with skin nourishing vitamins and fat-burning water.
The Fragrance Business Product Pavilion—featuring top fragrance houses (including IFF, Arylessence, Cosmo, Flavor & Fragrances Specialties) as well as IFRA and RIFM—also opened. The conference will open on September 10th.
GCI magazine will be providing daily reports from the 16th HBA Annual Trade Show and Educational Conference, September 9-11.
Come back daily for reports on new product launches and insights from the conferences. We will have photos from the show floor at the Jacob K. Javits Convention Center, plus highlights from GCI magazine's Fragrance Business event.
You can check out www.gcimagazine.com for industry news on a daily basis and go to our Event Coverage section for event happenings and recaps.