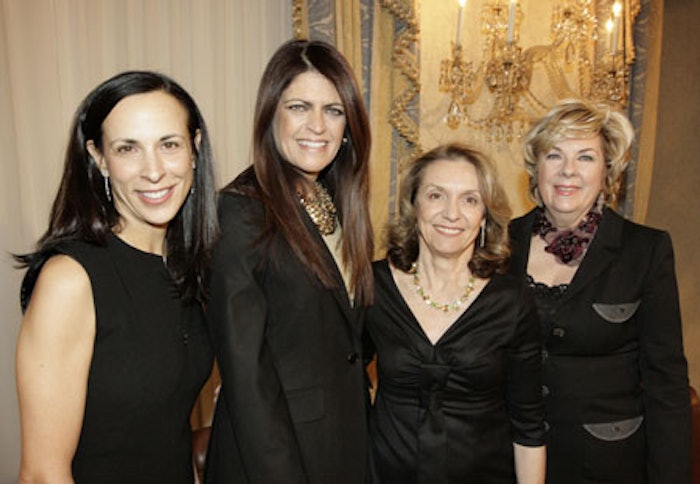 The Cosmetic Executive Women  CEW Newsmaker Forum on Feb. 15, 2011, featured Carmen Bauza, vice president beauty and personal care, Walmart, and Muriel Gonzalez, executive vice president, cosmetics, fragrance and shoes, Macy's. CEW president Carlota Jacobson, who acknowledged the presence of "some of the smartest people in the business" at the evening's presentation, described an invigorated CEW, which has grown since its founding in 1954 when it had 50 members, to an organization with a membership numbering 5,000 and representation from more than 1,300 companies.
She also recognized the event's sponsors (listed at the end of this article), and introduced the panel, moderated by Jill Scalamandre, CEW's chairwoman and CMO of Chrysalis.
What It Takes To Win Retail
Gonzalez noted that shoppers today are faced with numerous options, from online shopping to seeing and feeling products at counter. "Customers have so many choices, which makes us in the department stores have to work that much harder with service, which is what we are all about," she said. "We have to do our service right. That's when we'll win." She noted that customers are shopping every day, not just Monday through Friday, and that Macy's technology now enables them to mine their database and track 30 million households to make sure they are targeting correctly.
"We need to live and understand what our customers do," said Bauza, noting she and her team challenged themselves to live on an income reflecting the average four-person household today, for one month, to determine the reality of the way consumers are currently budgeting. "It was definitely a challenge," she said. Bauza gained insight into what it takes to have the right brands and the right prices for the Walmart customer. "I am the customer ambassador and make sure we have the best products at the best prices, particularly during a recession," she said.
"We all suffered during the recession, but Macy's kept its share," said Gonzalez, who noted she shops everywhere, from Bergdorf to Walmart. "We didn't hold back on what was offered to our customers, but fine tuned our approach. What we do at Macy's is offer a broad assortment. We have to be cognizant of what is everywhere."
Bauza added, "We are a mass store and we are trying to do the best job at communicating product solutions for our customer. This is really an era of transparency and it's an opportunity to create that experience for our customers with that service and price point option our customer seeks." Bauza said that in beauty, as well as in other parts of the store and around the world, Walmart is customizing. "We are customizing in all our stores, from the average fragrance price of $50 to the bottle of Chateau Margot in China."
Gonzalez said the Macy's customer still loves gifts with purchase (GWP). She cited the recent L'Oréal GWP bag, which has excited consumer discussion on Facebook, and said that Macy's monitors social media, which gives them great feedback. Bauza revealed that consumer feedback at Walmart was brutally honest. "We hear all the good as well as the bad, and our customers tell us what we need to know. So, it's great to have that social connection," said Bauza, who shared that women spend on average seven hours per month on Facebook. She also cited a partnership with Maybelline that directed customers to Walmart when they clicked on Maybelline.
Gonzalez agreed that social media was a great source of information. "We have new ideas each month about how to use social media and it evolves every day. It's great to get that customer feedback," she said. Bauza added, "We're a private company, so we don't share too much on Facebook, but it's an area where we are targeting our customers and reaching targeted age groups."
Bauza emphasized the impact of online beauty advice when customers are searching for brands, noting that customer feedback has prompted a bigger breadth of brands in the Walmart stores, including the addition of Essie nail care, which is a popular brand with customers.
Growth Strategies
"Macy's is focusing on the millennial consumer with its Impulse boutiques," said Gonzalez, noting that Impulse, originally a fashion product from Macy's West, is now coming to all Macy's stores, and the concept has been taken into beauty. "We're adding indie lines to the assortment and have found that it's a completely incremental business. Of the 60% of customers that had previously bought color and treatment products, they were now buying more, and Macy's is now offering more edited assortments in cosmetics and fragrance, and is reaching out in areas beyond beauty with that concept."
"The 'store of the community' is what we call our stores in particular demographics. We vary the assortment, which reflects our understanding of the customer in each community," said Bauza. "We bring in local brands and are learning to communicate with our local customers. This extends to bilingual signage, and that level of detail in each community. Our stores in Mexico do extremely well, and there's a high population of Mexicans in California and Texas. We are currently distributing products popular in Mexico in some of our U.S. stories." She noted, too, the popularity of one hair styling gel in particular called Moco de Gorila, as an example of local brands from Mexico that Walmart has brought to the U.S. It's a hair gel with youth appeal that creates spiky style options.
Gonzalez cited the popularity of Macy's Flushing, located in the heart of the Chinese community. "The Asian community has so embraced Macy's, particularly popular are such brands as Estée Lauder and Clinique. We're doing more business than in Macy's Union Square in San Francisco." Gonzalez also noted that, unlike Walmart (which has created exclusive offerings such as Hard Candy and private label), Macy's customers come for the brands they carry. "The customer comes for these brands, so we haven't had the need to develop our own beauty brands," said Gonzalez.
Bauza said that depending on demand, Walmart will adjust the brands they carry to meet the needs of their customers. "Kinerase, a prestige brand, has been brought into Walmart recently, and we've gotten a lot of calls from customers telling us their interests. We're going to soon offer Cosmedicine, Physician's Formula and Problem Solution, which we'll probably roll into all doors depending on demand," she said.
Challenges For The Future
"Today it's very hard to predict what the consumer will want. Having the knowledge is very powerful," said Bauza. "We recognize the desire of the supplier to continually innovate and reinvent. That is giving us confidence. The consumer has learned to live very differently, and we've got to stay in front of her going forward." Gonzalez concurred, saying, "It's harder than ever to predict the big winners and hard to anticipate. We're constantly calling and saying we need someone's allocation, so it's hard. We have found that customers are really responding to the technology we're offering at the counter," she said, citing the success of Clinique at counter.
Gonzalez added that cross shopping is really critical at Macy's. "If our customer shops in certain kinds of beauty, that will help us determine where she will want to shop next." Bauza noted that while at Walmart grocery is primary, they are locating the beauty and pharmacy areas strategically so customers will come to various parts of the store. "Pharmacy is also a big draw for our store. Wherever the customer finds surprises, a hook, the customer will come to the other side of the store," said Bauza.
The event sponsors were: Prevention, Arcade Marketing, WWD/Beauty Biz, Aveeno, Axe, CoverGirl, Dove, Elizabeth Arden, L'Oréal Paris, Maybelline, Neutrogena, Olay, Pantene, Reveal, by Halle Berry, RoC, Sally Hansen, Consultancy Media, Kaplow and LifeMinute.tv.