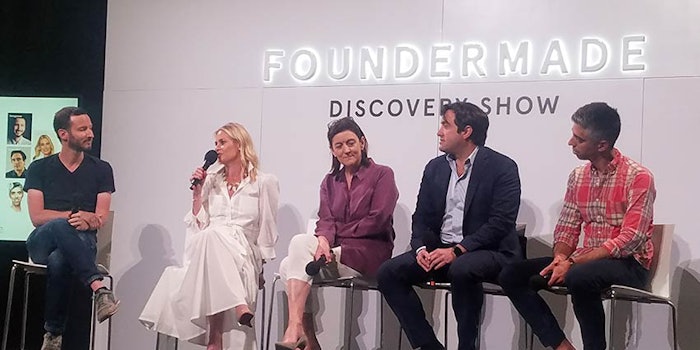 During Foundermade's annual Discovery Show on June 26, 2019, in New York City, panelists from brands and retailers including Walmart, Whole Foods, Qurate Retail Group and many more came together to offer upstarts advice on every aspect of building a brand—from selecting suppliers to going global. Here's what you need to know.
1. Building Your Business: Every House is Built on a Strong Foundation
During "Building Blocks of Success," moderated by Cannuka founder Michael Bumgarner, panelists discussed the resources and practices companies need to flourish. Bottom line:it all comes down to seeking out the right partners and systems from the very beginning. 
Courtney Velasco, industry marketing lead for fashion at Oracle NetSuite, emphasized the importance of establishing scalable digital infrastructure that can grow with your organization, and encouraged entrepreneurs to reach out to brands they admired to find out what services they were using.
Nicholas Giannuzi, founder and managing partner at The Giannuzzi Group, stressed the urgency of surrounding yourself with experts—including a legal team, accountants, and distribution partners—early on. 
"Ten to 15 years ago, when you wanted to do something, to start a brand, you had to do it yourself," said Giannuzi. "Now, you have highly specialized people available to you." 
Similarly, Zipline Logistics co-founder and COO John Rodeheffer noted that specialists make it their job to know the things a young brand owner won't—citing the fact that his own organization has an 18-page guide on what you need to ship to Costco. 
When it comes to managing it all, Jelina Salu, founder of Accounting Management, noted that she encourages her clients to allocate their time and focus in relation to how much that aspect of the business is costing then.
2. The Acquisition Game: Money (Probably) Doesn't Buy Happiness
Founders from Schmidt's Naturals, Sir Kensington's and The Laundress, all acquired by Unilever, and Elemis, purchased by L'Occitane, came together for a panel moderated by Entrepreneur editor in chief Jason Feifer to answer the big questions when it comes to getting acquired. 
Where are you growing?: "Before you even start it's worth asking—are we building this to be sold?" said Mark Ramadan, Sir Kensington's co-founder and CEO. The Laundress co-founder Gwen Whiting echoed this sentiment, noting that she knew knew from the get-go the brand would one day be sold, and built the vision and financials—including taking on no outside investors—around the goal. "We wrote our business plan before we knew how to make soap," she concluded.
Get your ducks in a row: You'll never know when the potential purchasers will come calling. Schmidt's Naturals co-founder and CEO Michael Cammarata compared the process to a band slowly picking up steam before attracting the attention of record labels. As such, it's important for startups to meet with lawyers, bankers and other behind-the-scenes players to get as much information (and as many resources) as possible before companies start to knock on their door.
What are your priorities?: While there might be plenty of companies willing to write a big check for a brand, Ramadan warned, "you'll lose every bit of your leverage when they're your new owner." Therefore, it's important that founders go into the acquisition with a clear mind as to what they want out of the deal. "You don't get everything in an acquisition," said Elemis co-founder and president Noella Gabriel. "So figure out what matters more to you: The money? Preserving the values? Do you want to live on with this brand?" Elemis, for example, decided it wanted to remain in the driver's seat and sought out a purchaser that would allow them to do so. "Right now, Elemis is standing on its own two feet, with the support of like-minded people, Gabriel noted."
3. To Get on Desirable Shelves, Do Your Research
"Buying into the Future of Beauty" brought together top retailers to discuss the ways businesses can get an audience and, potentially, shelf space.
A good place to start is brushing up on brand story. Rob Robillard, vice president of integrated beauty for Qurate Retail Group, said,  "For us, it always starts with storytelling; then, how different is it?" noted "How compelling is it to our consumer, is it something I haven't heard about before? It's a combination of those two things at the beginning."
"Founder-led really helps the customer connect," added SpaceNK's chief merchandising officer Margaret Mitchell. "It's more about the je ne sais quoi behind the brand."
For Follain, SpaceNK and Whole Foods, clean is supreme, so it's important for interested brands to get familiar with the ingredients they don't carry. 
"I would ask that brands do research on us before reaching out," said Tara Foley, founder and CEO of Follain. "We get so many submissions of brands that still contain ingredients that are on our publicly listed no-fly list. 
She added, "Also, how do you compare to the rest of our portfolio? How are you differentiated? It's important to ask questions about how the top brands got to the top."
These themes reemerged during the event's Fireside Chat with Beauty Evolution founder and CEO, Bobbi Brown, and Jody Pinson, vice president of Walmart Beauty. 
Pinson said that brands should ask themselves key questions when seeking to attract the megaretailer, specifically: "What is your story, what are you trying to communicate to the customer, how are you different?" 
She added that knowing one's supply chain—and being able to explain it—are also crucial.  
Another thing to keep in mind is what, if any, white spaces a brand's products fill. Qurate, for example, is looking for technology and instant gratification. 
Robillard noted, "Our customer really reacts to science … She doesn't have the patience she may have had in the past, and she really wants to see the results." 
Whole Foods, on the other hand, is always eager for "efficacious clean beauty at a price point that makes sense" for the store, noted Jen Coccaro, senior category leader of the retailer's body care and lifestyle.
In terms of getting products in front of potential retailers, brands should go back to the basics—most of the panel recommended simply shooting an email to the target contact.
4. Overseas Expansion: Partners & Protection Matter
The importance of strong partnerships was reiterated during "Growing Global," with Alibaba Group/Tmall Global category manager, beauty and personal care, Demi Shi-Guth, who stressed, "Work with your distributor or platform … to better target your audience." 
This includes releasing products specifically relevant to that particular market—and utilizing the retailer's on-the-ground knowledge to better position one's brand. 
Olivia Garden co-owner Anne Maza noted that the company sells brushes in boxes in India (to protect them from dust) and without them in America; in Dubai, the brand can't sell boar bristle brushes at all. 
"If you're ignorant about what's happening locally, you could be making a big mistake," she concluded.
"Most of the time … brands are more successful if they work with local distributors or trade partners," said Shi-Guth. "But you need to have at least one dedicated team member working with that country. Tmall offers a list of certified trade partners who are interested in that market and who have experience."
Another top priority when heading abroad: making sure ideas are protected, since patents don't extend globally and imitation is all but inevitable. 
"Protection is expensive, but well worth it," said Mazza, though registration in every country is impossible and those that are attainable have to be renewed. "As a smaller brand it might be hard to find the funds to do this, but if you have an idea that is unique and protectable, it is well, well worth it to do it."
Snow Fox Skincare founder Phoebe Song partially approached the challenge in an interpersonal way, working with a chemist who, from a moral standpoint, can be trusted with the brand's sensitive skin care formulations. 
She concluded, "If you don't have a good relationship with your supplier, how do you know they won't white label you in two seconds?"